Personal Mailer is a user-friendly software tool that helps businesses create professional serial emails for customers and prospects. With a familiar working environment similar to Microsoft Word, users can easily create newsletters without the need for extensive training.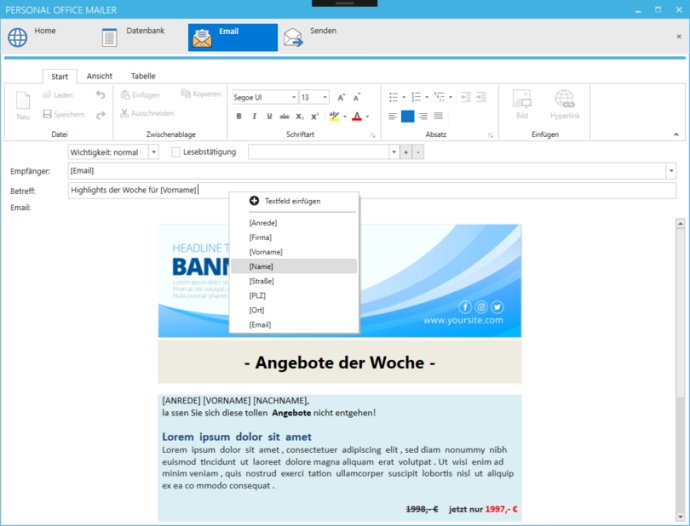 Personal Mailer is an excellent software tool for creating professional serial e-mails, newsletters, and bulk-mails for a wide range of recipients including customers, prospects, and club members. The platform boasts a familiar working environment similar to Microsoft Word, which makes it easy to design and craft elegant newsletters without extensive training.

Using Personal Mailer, you have access to a variety of text formatting tools, images, tables, colors, and hyperlinks to create unique and engaging e-mails. You can also include text boxes to fill in the recipient's details individually. With this feature, you can quickly and easily personalize your message to each recipient.

Managing bulk mails is a breeze with Personal Mailer. Even when sending to hundreds of customers, the personal address field is easy to manage. Personal Mailer sends messages automatically through your SMTP mail server. However, if you prefer to use Microsoft Outlook, Personal Office Mailer is an alternative option that you may consider.

Overall, Personal Mailer is a versatile and robust tool for anyone looking to create engaging newsletters and bulk mails. Its user-friendly interface makes it easy to use, and its text formatting tools and personalization features ensure that your messages are effective and professionally crafted.
What's New
Version 1.6: N/A