This software offers a comprehensive and customizable solution for project planning and management, including Gantt scheduling, participant workbooks, and remote progress updates. Accelerate your project from start to completion with automated features.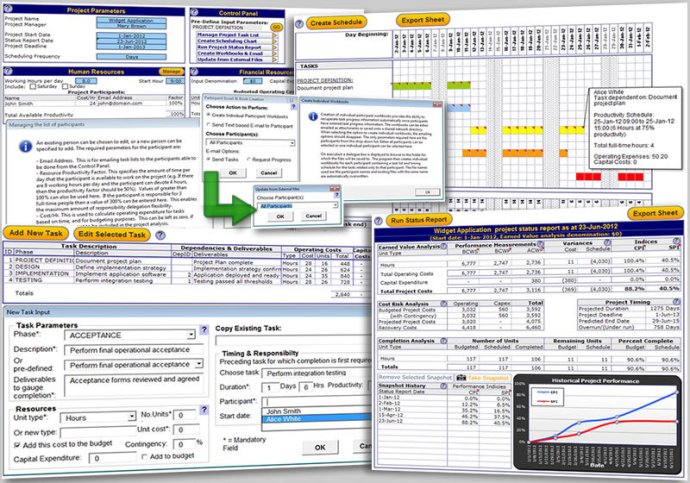 The Excel Project Planning and Management template is an affordable and versatile Excel-based solution that's designed to help users seamlessly plan and manage any project. One of the standout features of this template is its ability to build the project's budget while identifying various tasks. This allows for easier business case proposal, valuation analysis, and the ability to secure required project funding.

Throughout the entire life cycle of the project, the Project Planning and Management template can be used to alter project dynamics and monitor performance. This is achieved through utilizing the best practice Earned Value Analysis approach, which is an excellent method for keeping track of the progress of the project.

This software provides the ability to define the project budget, task titles, phases, holidays, and other significant project parameters, all of which accelerate workflow. In addition, task dependencies and timing constraints are taken into account to ensure the automatic calculation of the task timing. A project Gantt schedule that has daily, weekly, or monthly intervals is then created with embedded task information.

When it comes to the project's status report, the Project Planning and Management template has much to offer, including: overall project progress based on Earned Value Analysis, displayed trends for cost and schedule performance indices, and individual workbooks that can be generated with task lists for each project participant. The subsequent batch import function can then be used to automate project progress and status updates.

Finally, it's worth noting that The Project Planning and Management template is compatible with Excel 97-2013 for Windows and Excel 2011 or 2004 for Mac as a cross-platform project management solution. Overall, this is a highly functional software that provides users with a straightforward way to manage project planning and budgets all in one place.
What's New
Version 3.2: Compatible with Microsoft Excel 2016 for Windows and Mac