This text editor allows users to retrieve from Clipboard history, find and replace, insert or delete text on each line, filter lines or characters, sort lines, change case and convert text for coding purposes. The software also saves frequent commands.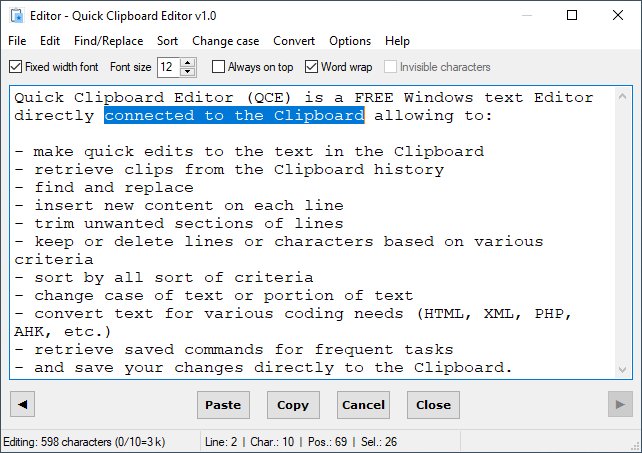 As a Windows user, you can now edit the contents of your clipboard easily and quickly with just a few clicks thanks to the Quick Clipboard Editor (QCE). The clipboard text usually needs to be transformed or edited before being pasted into the target application. With QCE, editing the text has never been easier or faster!

Using a standard text editor often requires many steps and clicks. However, with QCE, all you need to do is configure a shortcut that opens the QCE editor, and the current clipboard text is instantly ready for editing. Once the editing is done, a single button click pastes the text into the target application. This makes moving text between apps quicker and more efficient than you ever thought possible!

In the QCE editor, you can perform a wide range of editing tasks, including retrieving clips from clipboard history, find and replace, inserting new content on each line, cutting unwanted sections of lines, keeping or deleting lines or characters based on multiple criteria, sorting lines, changing the case of text or part of text and converting text for various coding requirements such as HTML, XML, PHP, AHK etc. And to make your editing even faster, you can save frequently used commands which can be retrieved from a drop-down list.

In a future version, Quick Clipboard Editor (QCE) will be capable of launching these saved commands from external applications or scripts like batch files, which will allow them to be integrated into an automated process. This will save you even more valuable time and energy!

The first official version of the Quick Clipboard Editor (QCE) is now available for free and is compatible with other clipboard tools and Windows clipboard history. It can complement or even replace them. QCE can be configured with an easy installer or can be used as a portable application. It works on Windows 7 and newer versions, and if you need assistance, support is readily available on the QCE website where you can ask questions or make suggestions.
What's New
Version 1.0: First release