Remote Desktop Manager simplifies remote connections, password, and credential management in a single platform for enhanced security, productivity, and speed with minimal risks.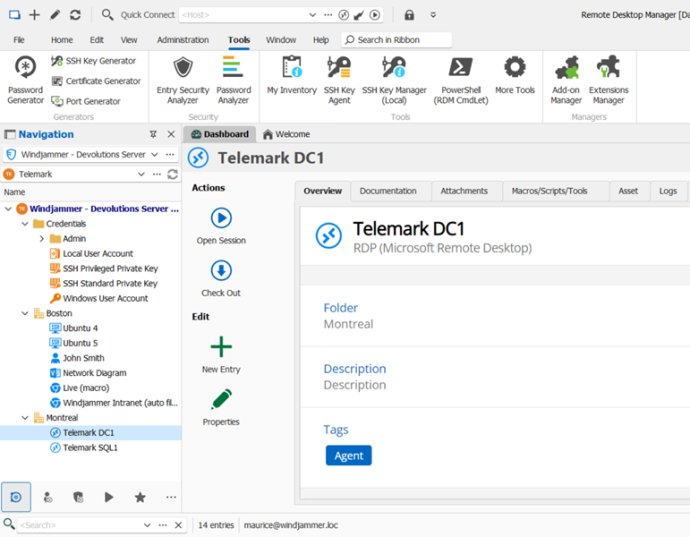 Remote Desktop Manager is the perfect software for those who need to remotely connect to multiple devices. This software offers a centralized platform where you can store all your remote connections, passwords, and credentials in one place - making your life so much easier.

What's more, this tool comes packed with fantastic features that will enhance the security and efficiency of your remote connections. With over 800,000 users in 140 countries, you're in good company.

Remote Desktop Manager is an excellent option for organizations looking to drive security, speed, and productivity. With this software, you can centralize all your remote connections, reducing risks for your IT department and ensuring seamless operations.

Moreover, Remote Desktop Manager integrates seamlessly with numerous technologies, including Microsoft Remote Desktop (RDP), Telnet, SSH, VNC, ARD, web (http/https), LogMeIn, TeamViewer, VPN, Ftp/FTPS/SFTP, and many more. With these integrations, you can conveniently connect to any device you need to, regardless of technology.

In conclusion, we highly recommend Remote Desktop Manager to anyone who requires remote connections to multiple devices. It's simple to utilize, efficient, and secure, making it a must-have tool for remote workers or people managing a remote team.
What's New
Version 2023.1: Added Apple Remote Management connections support
Added ARM64 support
Added PAM vault navigation tab
Enhanced UI theme (Windows 11 look and feel)
Implemented attachment and documentation support for sub connections
Version 2022.3: Added Apple Remote Management connections support
Added ARM64 support
Added PAM vault navigation tab
Enhanced UI theme (Windows 11 look and feel)
Implemented attachment and documentation support for sub connections