The PCprox RFID Card Reader Tool is a software solution that provides compatibility with different types of RFID card readers. The tool enables users to read and write data from RFID cards and can be used for a variety of applications including access control and asset tracking.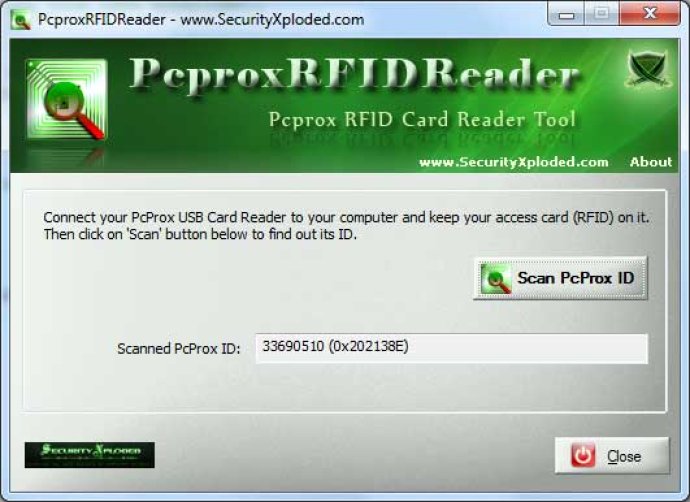 If you are looking for a hassle-free solution to read RFID/HID card ID using pcProx USB readers, then you should definitely try Pcprox RFID Reader. This powerful and easy-to-use tool is designed to support HID (RFID) card readers from RFIdeas Inc, a popular range of devices widely used by administrators for configuring and enrolling new access cards in organizations worldwide.

With Pcprox RFID Reader, you can quickly and easily read the ID or number embedded inside HID based access cards. This can be especially helpful for troubleshooting any problems associated with pcProx card reader or HID card, providing a robust solution for administrators looking for an efficient and reliable way to manage their RFID/HID card devices.

But that's not all. Pcprox RFID Reader can also be useful for end-users who need to manually register their HID card ID and send it for registration. And for those who just want to have some fun, you can even find out the ID or number of the HID card that you are carrying.

The software comes with an installer that makes it easy to install and uninstall on most Windows platforms, including Windows XP up to the latest operating system, Windows 10. This means that you can start using Pcprox RFID Reader in just a few clicks, without having to worry about complicated setup routines or technical issues.

In summary, if you want a reliable and efficient solution for reading RFID/HID card ID, then Pcprox RFID Reader is a must-try software. With its user-friendly interface and powerful features, this software can help you save time and effort when managing your HID based access cards, making it a valuable tool for administrators and end-users alike.
What's New
Version 3.0: Mega 2016 release to support for new Windows 10 version.