ScreenToVideo is an all-in-one screen recorder and video editor tool that can capture your screen with one click. With its amazing features, you can add text, sound, and images to create an amazing recording. Choose to capture a window, an area, or the full screen to create impressive videos.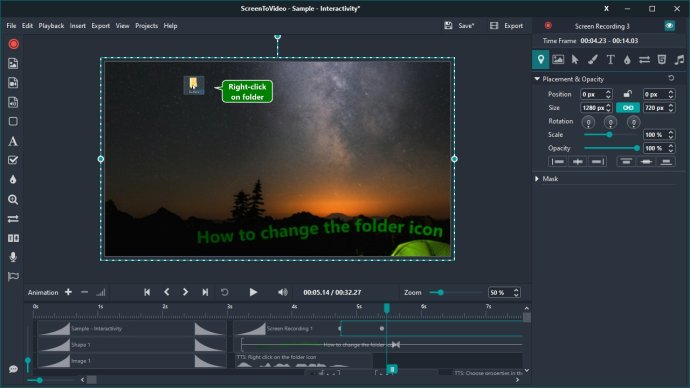 Looking for a screen recorder and video editor that is both powerful and easy-to-use? Look no further than ScreenToVideo! Our intuitive interface comes packed with all the right tools to create an interactive presentation in just a matter of minutes.

Using our built-in screen recorder, you can capture a window, specific area, or your entire screen with just one click. Plus, add a personal touch by recording your voice, system sounds, and webcam with your favorite virtual background. And with our flexible sketching tools, you can turn your screen into a whiteboard and even record animated GIFs of optimized size.

Once you've captured your footage, it's time to edit your video. ScreenToVideo offers a vast array of components, from text areas within shapes to video effects and even Google Text-To-Speech integration. Plus, our drag-and-drop system allows for fast iteration and minimal configuration time. You can even insert external videos or images and edit them simultaneously.

With ScreenToVideo, you have everything you need for closed captions, keystrokes, and audio loudness normalization right out-of-the-box. And when you're finished editing, export your masterpiece in MP4, WMV, or WebP formats for portability across any device. Need to export audio only? No problem- we offer quick exports in WAV, MP3, or M4A formats.

And thanks to our hardware-accelerated encoders, ScreenToVideo keeps your video quality high while cutting down on waiting time. In short, ScreenToVideo is the complete toolbox for any content creator. And if you find yourself wishing for a feature we don't currently offer, just let us know- we're always here to help implement it for you!
What's New
Version 2022.3.2: record to mp4 video, sketch while recording, edit in minutes, export to mp4/wmv video, record webcam with virtual background