SEOSmart Future PR is a free SEO tool that can check Google PageRank for your website by querying 94 Google data centers simultaneously, delivering results in seconds with a single click.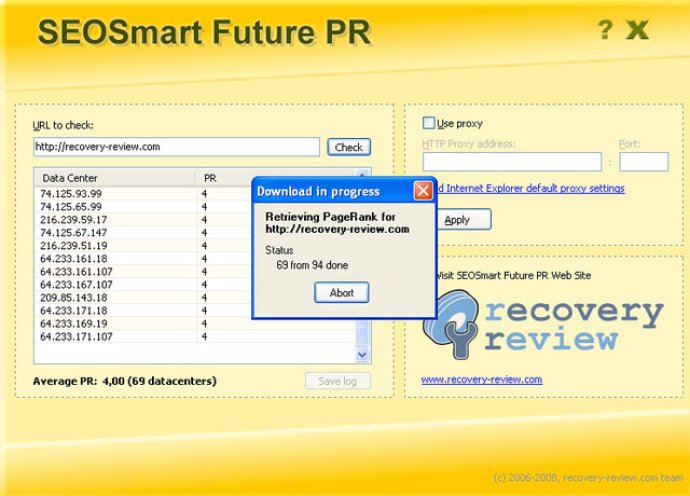 SEOSmart Future PR is a new SEO tool that checks your website's Google PageRank in just one click. Unlike other similar tools on the market, SEOSmart Future PR checks 94 Google data centers to ensure the validity of the site's PR rating.

Thanks to the use of multiple threads to query different data centers simultaneously, users can retrieve all 94 results in a matter of seconds. In addition, the tool is completely free to use and there are no captcha codes, pop-up windows or ads to distract you.

SEOSmart Future PR is useful for anyone involved in buying or selling domain names or purchasing links from websites. By checking a site's PageRank value with multiple data centers, users can protect themselves from purchasing links from sites with inflated or dropping ratings.

Google PageRank is constantly being updated, and may vary among different data centers. SEOSmart Future PR makes it easy to detect PageRank changes early by querying multiple data centers in just one click.

If one or more data centers start displaying different PageRank values than what users are used to seeing, it may be a sign of a PR update. Fortunately, SEOSmart Future PR includes a high-performance multi-threaded algorithm that makes it easy to monitor PageRank changes early.

The software is also customizable. Users can add or modify data centers' URLs or IP addresses at any time by simply editing the datacenters.txt file. The new release of SEOSmart Future PR allows users to use authorizing proxy and to export query logs as text or CSV.

Compared to other Web services that offer to check Google PageRank, SEOSmart Future PR is completely ad-free, pop-up free, and free of captcha codes. The software is small, fast, and completely free. Save time and ensure the validity of your site's PageRank with SEOSmart Future PR.
What's New
Version 1.5: New, fast multi-threaded algorithm.
94 data centers now in the list.
User is able to add his own data centers.
Retrieved pagerank's can be saved in log file (csv and txt format)
Version 1.0: Retrieving PageRank(tm) from 19 Google data centers
New cool design
Proxy support (with auth)