SPAM Shredder is an email program that identifies and filters incoming messages into spam and non-spam categories, effectively reducing unwanted mail.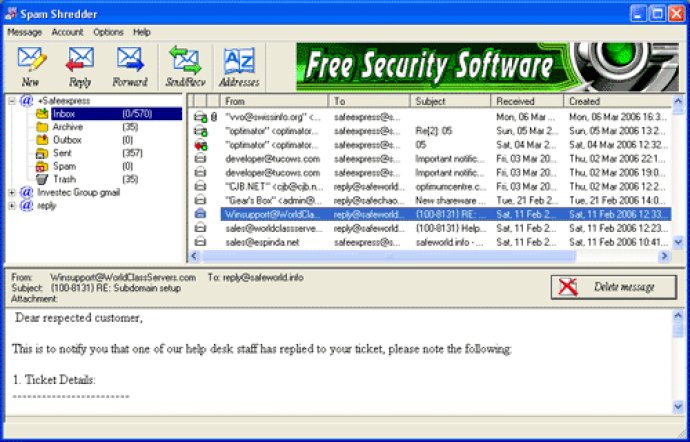 If you're looking for an effective and efficient solution to protect your inbox from spam emails, then SPAM Shredder's anti-spam email client is worth considering. This spam filtering software automatically categorizes incoming emails as spam or non-spam, so you can easily remove unwanted messages directly from the mail server without cluttering your inbox.

With SPAM Shredder, you can have better control over your incoming emails, helping you save both time and money. This email client ensures efficient productivity and accuracy in filtering out unwanted content from your inbox. It boasts a high success rate of up to 99.9% in detecting spam emails, which is quite impressive.

Aside from its powerful spam filtering capabilities, SPAM Shredder also offers good privacy and security protection. This makes it a reliable and secure option for handling high volumes of email traffic.

Overall, SPAM Shredder is a comfortable and user-friendly email client that comes packed with powerful spam filtering features. If you're in need of a tool to free up your mailbox from unwanted emails, then give this software a try. You won't be disappointed!
What's New
Version 3.1: N/A
Version 2.5: N/A