Speedy Claims provides an effortless and speedy way of filling and printing CMS 1500 forms. It offers automation to fill all fields and settings, while repeat patient claims can be completed with a single click.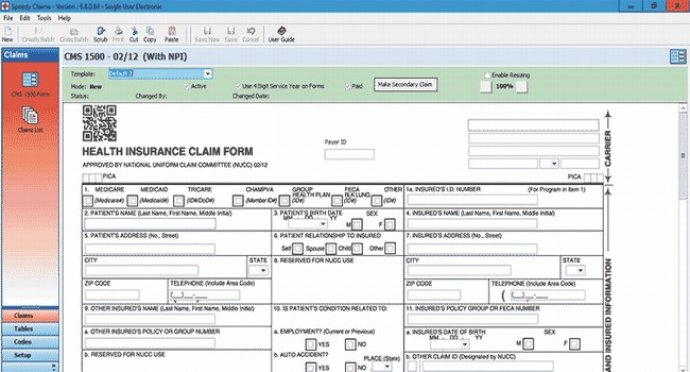 If you're looking for a CMS 1500 software that is both easy to use and incredibly powerful, Speedy Claims is worth considering. It's no surprise that many customers choose Speedy Claims over other form-filling software providers.

The interface is simple and intuitive, with just two steps to complete a form. Viewing the CMS 1500 on your screen is the first step, and filling in the blanks before printing or sending electronically is the second.

Speedy Claims is also incredibly fast. Once customized based on your practice, any field or setting can be automatically completed as soon as you begin. Your information is also saved for reuse, and repeat patient claims can be completed with just one click.

In addition to being fast and easy to use, Speedy Claims is also extremely powerful. Every single claim you enter is saved in the "Claims List," so you can keep track of everything regardless of the size of your practice. It even allows you to store 100,000 patient records and claims and bill for multiple providers.

Speedy Claims is also incredibly reliable. It is the sixth generation of the software, and the developers have incorporated customer suggestions to ensure it is trustworthy.

Some of the software's features include free industry-leading customer support, new 02/12 form readiness, ICD-10 codes, paper and electronic claim capability, free automatic software updates, and many unique shortcuts that make Speedy Claims even faster. It also includes a free Claim Scrubber to help you check your claims for over 20 commonly found errors.

In short, every doctor who bills insurance of any kind, dentist who performs medical procedures, and therapist of all types can benefit from using Speedy Claims CMS 1500. You can even try it free for 30 days to see how easy it is for yourself.
What's New
Version 6.8.0.118: Bug fixes and improvements.