Tiff Teller is a software tool for analyzing TIFF and PDF files. It provides page count, file type, size, path, and more. Users can select which fields to display, and the report can be saved as a printable or exportable file in various formats.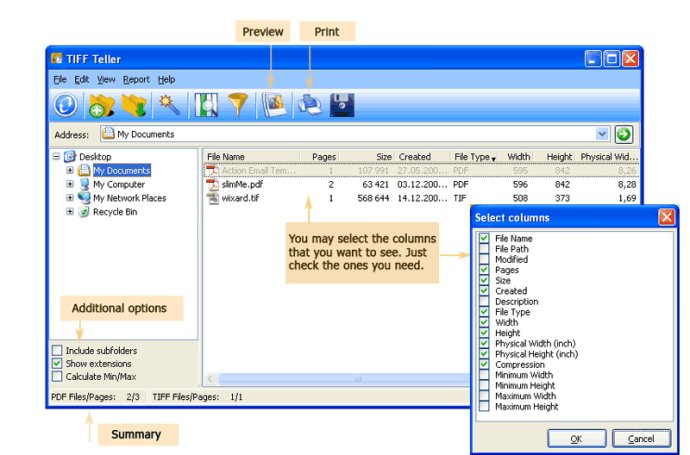 Tiff Teller is a powerful tool that allows you to access all the essential information about your TIFF and PDF files. With this software, you can quickly obtain information such as page count, width, height, file type, file path, and size of your files.

One of the best things about Tiff Teller is that you can choose the fields you want to be displayed for your files. This feature provides you with greater flexibility and allows you to customize your output.

When it comes to generating reports, Tiff Teller makes it effortless. You can easily obtain a detailed report of your Tiff and PDF files, which can be printed or exported to different formats, such as xls, doc, txt, csv, html, xml, and many more.

To make things even better, you can preview each file right inside the program, allowing you to have a quick glance at the content and make any necessary adjustments.

Tiff Teller offers two ways to run the software: through a user interface or command line. This makes it an excellent tool for both beginners and advanced users.

With Tiff Teller, you get access to all the necessary details about your Tiff and PDF files in one comprehensive report. And the best part? You can download a free trial version to experience this remarkable software for yourself!
What's New
Version 2.2: New version will create a detailed report on your PDF files.