ToolsGround PDF Unlock Tool unlocks multiple password-protected PDFs at once. The program removes restrictions on copying, editing, and printing of PDF files. A free demo is available for testing.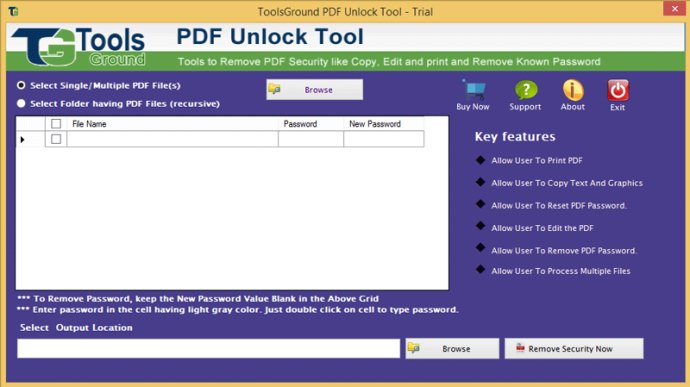 Are you tired of having to remove passwords from PDF files one by one? Look no further than ToolsGround PDF Unlocker Program. With its simple interface, the tool makes it easy for users to unlock PDF files without the need for any extra applications. Plus, with the convenience of Folder mode, you can unlock multiple PDF files at once.

The application also provides a complete preview of selected PDF files, ensuring that you're removing the right password. Once the passwords have been removed, you'll have the freedom to edit, print, and copy the content of your PDF files. And managing the application is simple, even for a novice user.

But what if you need to reset the password of your PDF files? No problem - ToolsGround PDF Unlocker has got you covered. The software is compatible with all versions of Windows, including Windows XP, Vista, 7, 8, and 10. Plus, attachments are kept safe and sound within the application.

Worried about file corruption or misplacement? Have no fear. Our experts have tested the software to ensure 100% safe and quality results every time. And no matter the size of your PDF documents, the ToolsGround PDF Unlocker utility can handle it.

And once you take the license of the program, it's all yours to enjoy. You can use it for unlimited PDF unlocking, all without any changes made to your original files or any effect on their quality.

Still have questions? No problem. Our free 24/7 technical support team is always available to assist with any queries or doubts.

So what are you waiting for? Download ToolsGround PDF Unlocker Program today and try it out for yourself with our free demo version.
What's New
Version 1.0: N