This typing software is designed for improving Hindi and English skills for exam preparation. With a simple GUI and customizable settings, users can easily track their progress through detailed reports.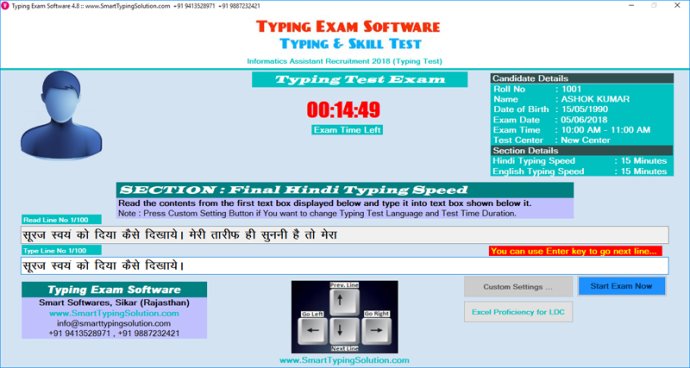 Are you in need of dedicated software to improve your typing skills for exams in Hindi and English? Look no further than Typing Exam Software. Preparing for exams and tests often calls for specific tools to aid in skill verification and improvement. Typing Exam Software is just such a tool, providing support to users dealing with exams in both Hindi and English languages.

The software is designed for ease of use, with a plain GUI and simple commands. Once installed, users can easily navigate the software and access its main functions. Customizable user settings allow users to enter their personal details for a more tailored experience.

As users begin typing, the software automatically records their speed, accuracy, and number of errors. Once the exam is complete, users can review their results, including the number of lines and words typed and their average typing speed. The software also provides an overall evaluation of the user's performance, enabling them to determine if they passed or not.

Overall, Typing Exam Software is an invaluable tool for anyone needs to pass a typing exam in Hindi and English. The software is incredibly user-friendly and provides detailed reports, making it easy to assess progress and highlight areas for improvement. If you're preparing for a Hindi and English typing exam, this application is a must-have.
What's New
Version 4.8: A useful software solution especially aimed at those who need to check and improve their typing skills for various exams in Hindi and English.

:: Plain GUI with simple commands for ease of use.
:: Customizable user settings and detailed reports.
:: A handy utility for verifying typing skills