Plagiarism Checker X helps detect duplicated content by scanning and comparing text with online sources. Ideal for writers, students, teachers, and website owners.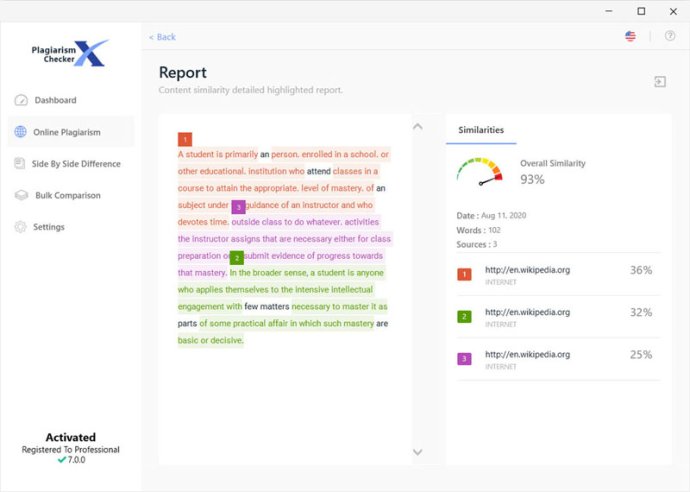 Plagiarism Checker X is an essential tool for students, teachers, writers, and website owners who want to avoid text-similarity concerns. This efficient software allows you to search and locate similar or identical content within text documents and web pages. The process is fast and accurate, as it browses through 16 billion indexed pages in Google and Bing, producing detailed Word/PDF reports within a matter of seconds. The reporting format is user-friendly, showing different percentages of similarity in distinct colors.

Concerned about the privacy and security of your documents and assignments? Worry not, as Plagiarism Checker X operates from your desktop, requiring no content uploading and storing nothing online. This software provides diverse facilities, including online checking, text-compare, cross comparison, bulk search, and keyword searching, targeting multiple segments of the market. With this tool, your content will be plagiarism-free, and all originality problems will vanish. Plus, this software supports a crosscheck feature for multiple documents or websites.

Teachers, online publishers/editors often have documents in groups, making checking them individually time-consuming. Luckily, Plagiarism Checker X has a bulk search option that allows you to scan the entire group with just one click. Search engine optimizers can cross-check two documents relative to each other, ensuring an accurate outcome. Writers and bloggers can also benefit from the software by checking published or yet-to-go-live content for quality issues by merely pasting the URL of the published work into the pane and receiving the results.

In summary, Plagiarism Checker X offers a best free alternative to Turnitin and Copyscape, making it a must-have tool for anyone concerned about text-similarity issues.
What's New
Version 8.0.7: Plagiarism Checker X is reinvented with a brand-new design and major improvements including: Drag and drop, enriched reports, deep search technology, 20+ language support, Reference and bibliography detection, Exclude quotes major performance improvements.