This software allows for the creation of UPC barcodes in 22 font options, using random or sequential label images for scanning purposes. Its design ensures complete fulfillment of barcode labeling needs.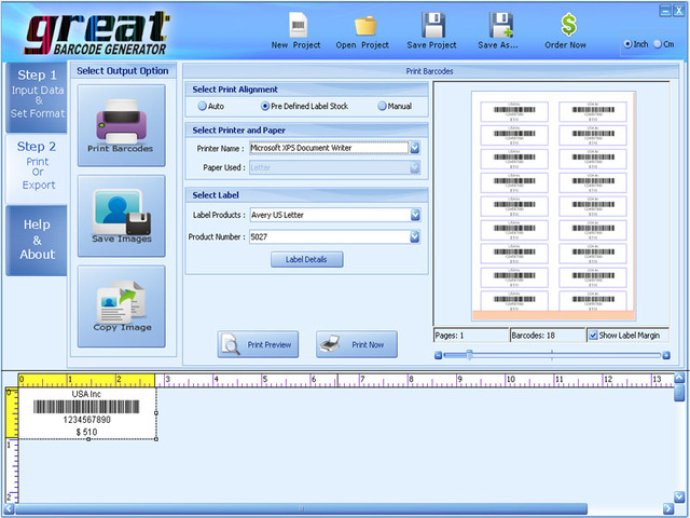 I recently tried out the UPC barcode generator and image label maker software and was impressed with its capabilities. The software can generate either random or sequential barcode image fonts that can be used for scanning purposes in a barcode printer format. I was pleased to find that the results had been extensively tested with major barcode printers and were free of errors.

The included barcode decoding software is impressive and capable of developing several barcode fonts such as Codebar, barcode 39, barcode 128, Interleave 2 of 5, UPC, 2 of 5 Industrial, PDF 417(2D), Ean-13, EAN-128, ISBN, SCC-14, SSCC-18, Code 128A, 128B and 128C, etc. Additionally, the barcode label creator utility is compatible with several popular applications including quark, Photoshop, CorelDraw, etc. for printing purposes. I ran the software on Windows XP, NT, 98, ME, 2003 server, 2000 and Windows Vista Ultimate etc. and was pleased to find that it easily ran on all of them.

The barcode generator shareware application also provides options to change barcode image background color, caption color, caption font and barcode color to better suit the user's requirements. The software generates printable and scannable barcode files that print easily on any barcode printer. What's more, the barcode image creator wizard comes with inbuilt GUI features hence even someone without technical knowledge can operate this software without needing technical support.

The software is capable of developing high-resolution barcode image files and provides options for developing your own style of barcode labels and asset tags in minimum time and at affordable prices. The barcode decoding tool can create sequential or random series of barcode labels in very small amounts of time while the barcode label creator software generates printable and scannable barcode images and supports printing on any normal printer.

Overall, I found the barcode label designer software to be simple and easy to use in various types of organizations including Medical healthcare, Pharmaceutical, Chemical industries, Shipping, Warehousing, Manufacturing plants, Transportation, Electronics, etc. Lastly, the barcode label creator application also helps to develop barcode stickers, asset and labels in the simplest way possible.
What's New
Version 3.0.3.2: Support all standard Barcode font files