Word Password Unlocker helps you recover forgotten passwords for MS Office Word documents (docx, doc) quickly, thanks to GPU acceleration and multi-core CPU support. It works for Word 97-2010 documents, making sure you get back into them when you need to.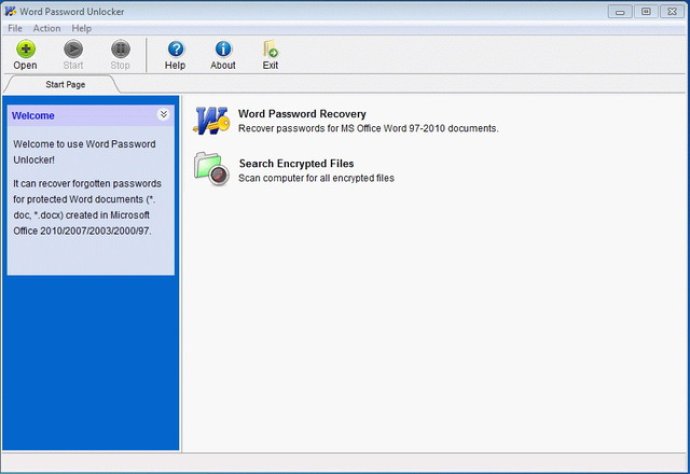 Word Password Unlocker is a reliable tool for those who have forgotten the passwords to open their Microsoft Word documents. With this software, you can quickly recover forgotten passwords for Word documents created in Office 2010 / 2007 / 2003 / 2000 / 97 (*.docx, *.doc) in three simple steps.

This program supports GPU acceleration and Multi-core CPUs which can speed up the Word password recovery process. Windows Password Unlocker offers Brute-force attack, Brute-attack with Mask attack, and Dictionary attacks password recovery options for MS Word.

It also features a search option to help you locate password-protected Word documents in case you cannot remember their file location. The program can automatically save the password recovery process, allowing you to resume Word password recovery after stop or interruption.

Key features of Word Password Unlocker include easy and quick recovery of lost MS Word passwords for 97-2010 files (*.docx, *.doc), the use of NVIDIA / ATI GPUs for faster password recovery process, and the ability to recover Word password fast using advanced SSE and search algorithm.

Moreover, the software has a user-friendly interface and requires only three simple steps for anyone to use. Word Password Unlocker allows you to stop and resume Word password recovery anytime through its auto-save feature, and it also offers an option to shut down your PC after Word password recovery.

In summary, Word Password Unlocker is an efficient and user-friendly tool that offers an effective solution for recovering lost MS Word passwords.
What's New
Version 5.0: Efficiently retrieve forgotten passwords from encrypted Word documents created by Microsoft Office Word 2010/2007/2003/2000/97 (*.docx, *.doc). GPU acceleration and Multi-core CPUs are supported to recover password quickly.
Version 4.0: Recovers passwords for Microsoft Word of all versions from 97 to 2007

Recovers Password to Open to open the Word file

Removes Password to Open and Password to Modify

Fast in recovering passwords of high strength

Allowed to customize a password mask if any part of the password is known
Version 3.0: New version is released with a much faster recovery speed! The function and interface are optimized.