WiFi Password Recovery Pro instantly recovers and removes wireless passwords in just one click, making it a powerful and convenient tool for enterprise software use.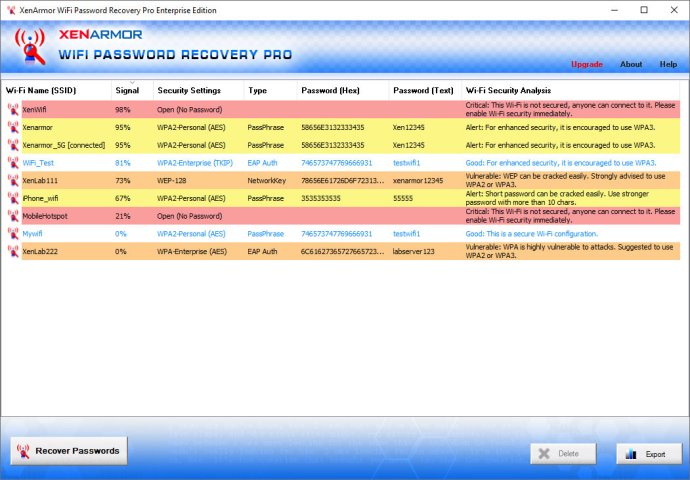 Looking for a powerful enterprise software that can instantly recover and remove all wireless passwords with just one click? Look no further than XenArmor WiFi Password Recovery Pro. This user-friendly software is designed to automatically recover all types of wireless keys and passwords, including WEP, WPA, WPA2, and WPA3, ranging from 8 to 64 characters.

But that's not all. XenArmor WiFi Password Recovery Pro also provides detailed security analysis of each recovered Wi-Fi profile and categorizes them based on their password security configuration. This enables users to take adequate measures to prevent potential security issues, with categories like Dangerous, Vulnerable, Warning, and Good.

So what are the benefits of using XenArmor WiFi Password Recovery Pro? Instant discovery and decryption of all wireless passwords from your system, recovery of passwords for all wireless protocols, easy removal of selected Wi-Fi password profiles, and generation of password reports in various file formats.

But that's not all. The software also displays results in a multi-colored report for quick identification of security issues and performs a detailed password security analysis and classification of each recovered wireless profile. And for those who want to automate their wireless password recovery operation, there's even a command-line version that can be seamlessly integrated within your scripts or programs.

And perhaps best of all, XenArmor WiFi Password Recovery Pro works on all 32-bit and 64-bit platforms, from Windows Vista to the latest Windows 11 version, ensuring compatibility across a broad range of systems. With its robust features and capability, it can help businesses and individuals recover Wi-Fi passwords and strengthen their network security. So why wait? Try XenArmor WiFi Password Recovery Pro today and take control of your wireless passwords.
What's New
Version 7.0: Mega 2023 release with new Wi-Fi connect/disconnect feature, signal quality display, auto copy Wi-Fi password, new attractive GUI interface, new installer design, enhanced license manager, improved Wi-Fi analysis etc
Version 6.0: Mega 2022 release for new Windows 11 with enhanced WiFi password recovery process. Now personal edition supports more features like report generation in all formats, multi-colored display & Wi-fi security analysis