1-abc.net Password Organizer is a password management software that simplifies the task of organizing passwords and login data. With only one master password to remember, it provides multiple useful features, including password generator and secure password management.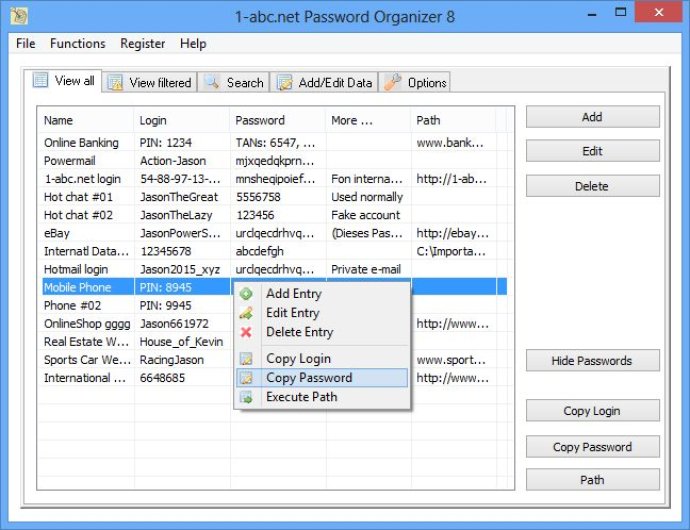 When it comes to security and online safety, one of the biggest hurdles that people face is keeping track of multiple passwords for various online accounts. This is precisely where 1-abc.net Password Organizer comes in handy. This software solution helps you to organize all your passwords and login data, so that you only need to remember your master password. In addition, it offers many useful functions that aid in modern and secure password management.

The feature list for this software is quite extensive. Firstly, it comes equipped with an integrated random password generator - this is especially useful if you have difficulty creating new, unique passwords. Also, it has a copy function that enables you to quickly and efficiently enter your passwords into login fields. Additionally, it has a .txt export function which can be used to ready your secure data for printing, emailing or any other usage, provided it is done with caution.

Another great feature is that the program is capable of holding thousands of passwords, and the only limit is the amount of disk space on your device. Furthermore, it is versatile and can be installed on various types of storage media, such as hard drives, USB sticks, floppy disks and many others. Security-wise, 1-abc.net Password Organizer has its own encryption engine developed by the company, which provides a secure level of protection for our data.

All in all, 1-abc.net Password Organizer is a great tool to have for people looking to manage and organize their passwords in a secure and efficient manner. Its user-friendly interface and extensive feature list makes it a top choice for anyone needing password management software.
What's New
Version 1.12: Minor improvements under the hood.