Acronis True Image 9.1 Enterprise Server is a robust backup and restore software for servers. With the Acronis Management Console, it is the easiest server backup solution for businesses.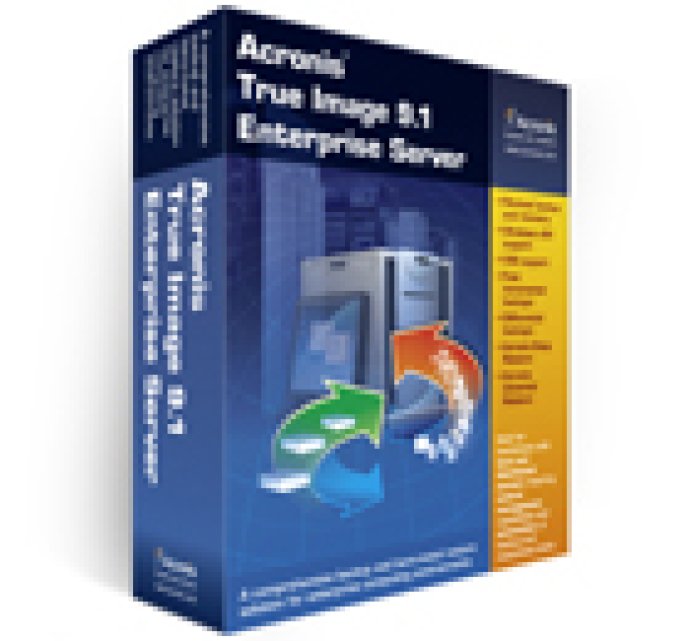 Acronis True Image Enterprise Server is a powerful corporate solution for server backup, protection, and restore that should be considered by companies of all sizes. This superior product offers the Acronis Management Console, a feature that offers great flexibility for corporate IT departments. From this console, you can easily manage backup tasks, install the product, and recover remote servers located throughout your network.

Acronis True Image Enterprise Server allows you to make an exact copy of your server disk image, including the operating system, applications, and configurations. You can also perform backups of mission-critical databases, which enables you to recover from any unforeseen events without losing valuable information. Complete system restoration can be performed to an existing system, as well as to a new system with completely different hardware or to a virtual machine.

With Acronis Drive Snapshot technology, you can backup without interrupting server operation, providing a seamless experience for users. Additionally, the product offers a range of new features, including Acronis Backup Server, which allows IT administrators to establish backup policies. Acronis Universal Restore enables restoring to different hardware, while also recovering from unforeseen events. Enhanced database support offers online backup for databases such as MS Exchange Server, MS SQL Server, and Oracle.

Furthermore, 64-bit Windows support provides the ability to use one application for new and old systems. Remote unattended restores with the Acronis bootable agent provide the flexibility needed to recover all systems in the network from one location. Boot from an image, using Acronis Snap Restore™ (a patent-pending technology), allows for decreased downtime by allowing systems to be used during recovery. Additionally, automatic image verification ensures that images can be used seamlessly for restoration.

Differential backups decrease the number of backups required to be managed, while the inclusion of file backups, in addition to image backups, provides flexible system protection. The ability to exclude files from backups saves space in storage archives. Finally, Windows Event Log and SNMP support allows integration with your existing network monitoring application. Overall, Acronis True Image Enterprise Server is an incredibly comprehensive solution that provides businesses with the highest level of protection, backup, and restoration capabilities.
What's New
Version 9.1: N/A