Agility Database is a comprehensive Relational Database solution that includes Lookups, Calculations, and Table Posting. No programming expertise is required, and it comes with a Runtime Version and the option to customize the product's branding.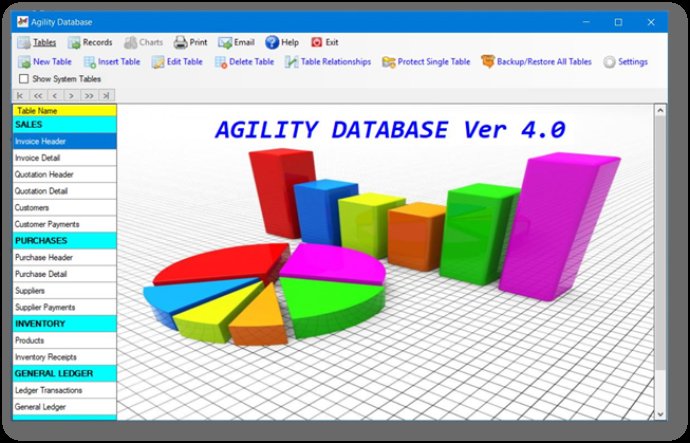 Agility Database is a powerful software solution that offers a complete relational database experience with added features such as lookups, calculations, and table posting. What sets Agility Database apart from its competitors is that it requires no programming knowledge, making it an excellent choice for users with varying levels of technical expertise.

One of the outstanding features of Agility Database is its ability to be re-branded, giving businesses a chance to customize the software as per their branding requirements. Additionally, the database is built around defined system tables to ensure efficient and reliable data management.

Agility Database offers a wide range of features that cater to different data management needs. These features include charting, grouping, sub-totaling, sorting, filtering, and reporting, which ensure users get accurate and detailed data reports. This software also allows emailing directly from the database, allowing users to share important business reports quickly and easily.

Examples included in the Agility Database are a full business accounting system and a personal organizer, which showcase the software's versatility and ability to cater to various industries. With unlimited power, Agility Database can meet the needs of businesses of various sizes and niches.

In conclusion, Agility Database is an excellent relational database software that offers a plethora of features to manage and organize data. It requires no programming skills and can be easily customized, making it an ideal choice for businesses looking for an efficient and streamlined database solution.
What's New
Version 4.0: Emailing capabilites including inclusion og HTML Editor
Re-branding capability
Runtime version
Complete Accounting System example with no record limitations
Complete Personal Productivity example with no record limitations