Efficiently recover passwords from over 210 popular Windows Apps with our user-friendly software interface. The ultimate solution for easily retrieving all passwords.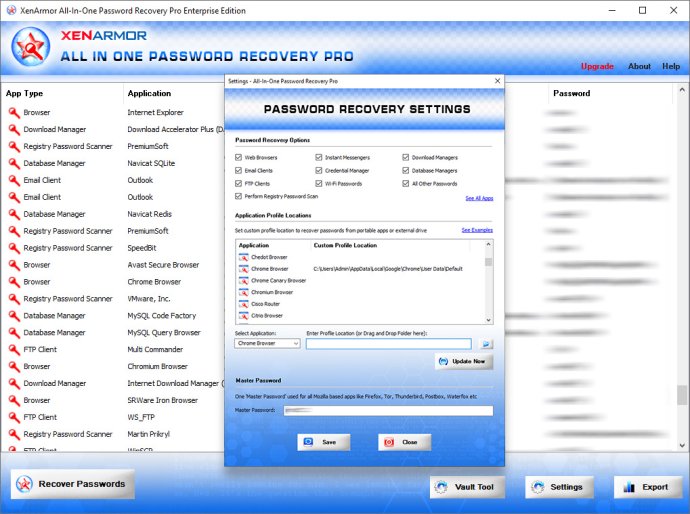 Review:
XenArmor All-In-One Password Recovery Pro is an exceptional password recovery software designed specifically for enterprise users. It provides a comprehensive solution for recovering lost or forgotten passwords from over 210 popular Windows applications.

One of the standout features of this software is its ability to recover passwords of all types, including website logins, email accounts, messengers, FTP clients, download managers, remote desktops, databases, routers, credential managers, and Wi-Fi passwords, among others. This wide coverage ensures that users can easily recover passwords from a diverse range of applications and platforms.

The latest release of XenArmor All-In-One Password Recovery Pro introduces the impressive "Registry Password Scanner" feature. With this functionality, users can swiftly recover all stored passwords from the Windows registry within seconds. This enhances the efficiency and convenience of the software.

The benefits of using this software are extensive. Users can instantly recover email passwords from 15+ email clients, retrieve website passwords from 70+ browsers, and recover FTP passwords from 40+ clients. It also supports password recovery from 20+ Database Managers, social network accounts, and various Wi-Fi password types such as WEP, WPA, WPA2, and WPA3. Additionally, the software excels in recovering passwords from messengers, downloaders, and credential managers. It offers automation for the password recovery process and enables users to save passwords to HTML, CSV, XML, JSON, and SQLite files.

An important aspect worth noting is the compatibility of this software. It works seamlessly on both 32-bit and 64-bit applications and supports all Windows PCs, from Windows XP to the latest Windows 11. This ensures versatility for users across different platforms.

XenArmor All-In-One Password Recovery Pro also provides additional benefits. It supports master passwords in all Mozilla apps, allows recovery from portable apps or external disks, and offers a command-line version for easy integration with scripts. The software even includes a portable unlimited edition, enabling users to run it directly from a USB disk for added convenience.

In summary, XenArmor All-In-One Password Recovery Pro is an essential tool for enterprise users seeking comprehensive password recovery solutions. Its wide array of features, including instant password recovery, automated recovery processes, and compatibility with various password categories, makes it an indispensable asset. Whether you are using Windows XP or the latest Windows 11, this software has got you covered.
What's New
Version 10.0: Important release fixing crash issues in Credential Manager modules for IE, Outlook, Gmail Notifier, Cyberduck, ExpanDrive, Live Messenger etc. Fixed memory leak crash issue in Windows Vault Password Recovery Tool. Also fixed issue in Foxmail v7.2 automatic account file finder.
Version 9.0: Mega 2023 edition supporting password recovery from 240+ apps. Also fixed/enhanced password recovery for existing 20+ apps. Now comes with new attractive GUI interface & new installer design.
Version 8.0: Grand 2022 release for new Windows 11 platform. Now supports instant password recovery from 210+ popular apps. Also comes with unique "Registry Password Scanner" feature to help you recover all the stored passwords from Windows registry in few seconds.