Allfactor is a challenging puzzle game that tests players' memory, logic and luck skills. The game is easy to understand, yet difficult to solve.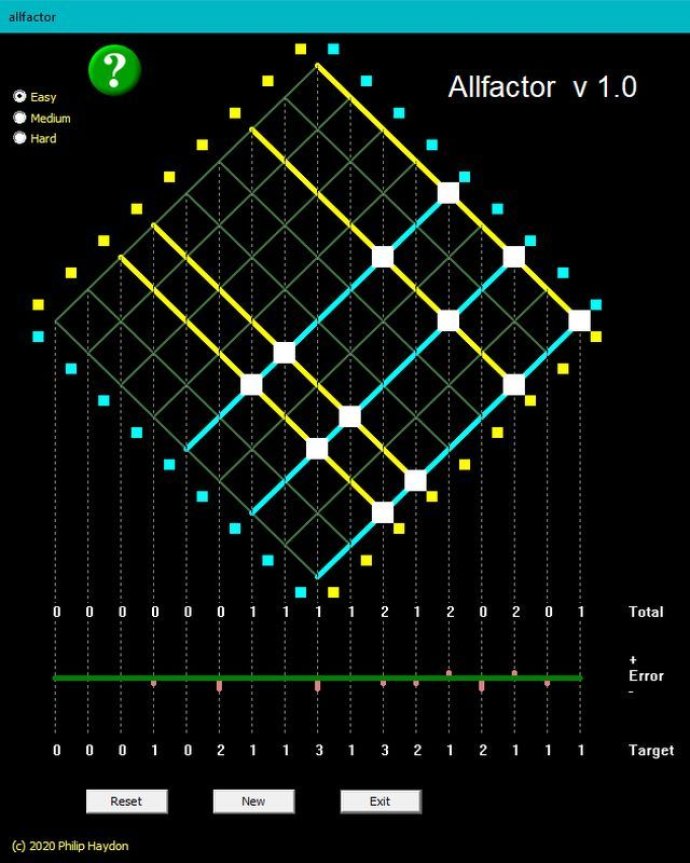 The Allfactor software is an intriguing and challenging puzzle game that demands players to utilize their memory, logic, and luck in order to successfully solve each level. Although the concept may appear simple to understand, it can be quite difficult to crack.

The gameplay involves placing diagonal lines on a grid in the correct positions. Then, players must count vertically for each column, determining the number of intersections of these diagonal lines. Finally, in order to win, players must match these column totals with a pre-determined set of target totals.

One of the most interesting aspects of this game is the underlying mathematical theory behind it. The puzzle involves finding the factors of a semi-prime number, which provides an additional layer of complexity and intrigue.

Overall, the Allfactor software is an excellent choice for puzzle lovers who enjoy a challenge that requires a blend of mental skills to solve. The graphics are clear and aesthetically pleasing, and the gameplay is sure to keep players engaged for hours on end. Whether you're a seasoned puzzle veteran or a newcomer to this type of game, Allfactor is definitely worth checking out.
What's New
Version 1.0: New release