Metamorphosec Italian Sentence Scramble is a Windows software for learning Italian by rearranging scrambled words into meaningful sentences. It features Training and Test Modes and offers over 500 sentences to play with.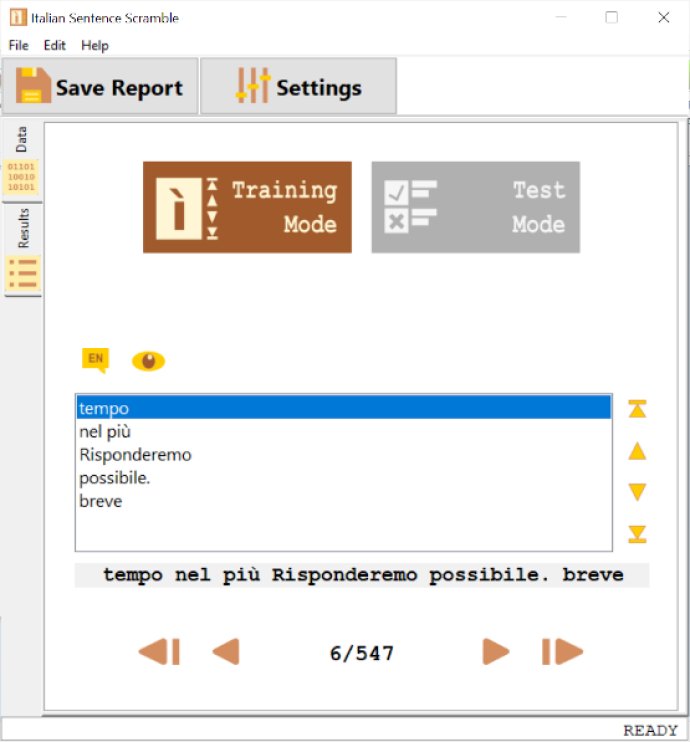 If you're seeking a helpful tool to learn Italian, Metamorphosec Italian Sentence Scramble might be the way to go. This software is designed to assist users in rearranging scrambled words to create meaningful sentences, and it's compatible with Windows operating systems.

The software features two modes of play: Training Mode and Test Mode. Training Mode allows for playing with over 500 sentences, while Test Mode provides more of a challenge for users to test their skills. The Passing Grade can be adjusted to increase difficulty.

However, it's worth noting that there are limitations in the UNREGISTERED Version. This version is only intended for personal use and restricts saving files to the Saved Documents folder on the desktop. Additionally, questions are limited to 100 sentences in Training Mode and 10 sentences in Test Mode, with a maximum length of 40 characters per sentence. Lastly, Settings are disabled in the UNREGISTERED Version.

Overall, Metamorphosec Italian Sentence Scramble has shown potential for users looking to improve their Italian language skills in a playful and interactive way.
What's New
Version 1.0.0: https://metamorphosec.com/Files/Changelog/changelog_metssit.txt