"Counting Made Fun" is an interactive software that educates young children on counting, addition, and subtraction. The program offers graphic support throughout the tutorial and has animated rewards to keep children engaged. It covers numbers 0 to 9.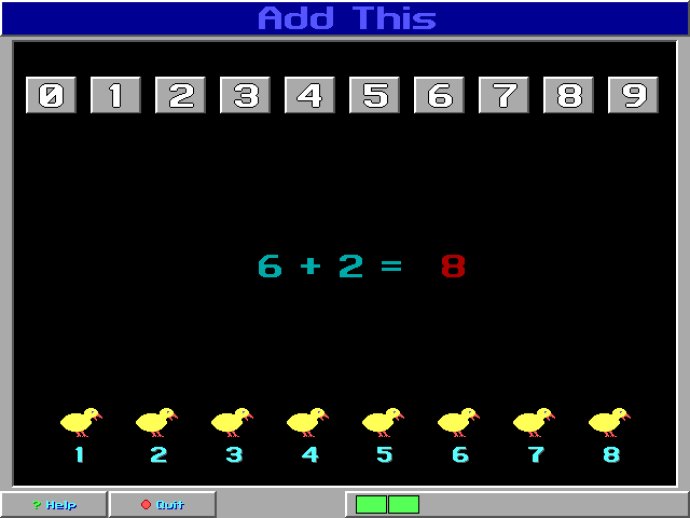 This software is a completely updated Windows version of our most popular program. It is designed to teach young children counting, addition, and subtraction with animated rewards every step of the way. It offers more than just a drill as it also provides graphic help as needed.

The program covers the numbers 0 through 9, making it the perfect tool for young learners. Once a set of ten questions has been successfully answered, children are rewarded access to the game room. The game room contains two updated versions of the original games. The 'build your own rocket' game now offers a diverse range of 256 colors and sound. The 'Animated Piano' is an exciting addition, featuring a computer image of a piano along with 19 animated 'singers,' each with their unique instruments for sound. These include everything from grand pianos to banjos. The program uses sound card MIDI instruments for the right note sounds.

Aside from these updated games, there is also some new content. The 'Animated Darts' game features eight dart boards with exciting animated colors. There are also two coloring books that include 25 roaring dinosaurs and 26 different animals – one for every letter of the alphabet. Each animal comes with its unique sound to expand kids' cognitive learning experience.

Overall, this software is an excellent tool for introducing young children to math concepts in an engaging and interactive manner. Its fun and animated rewards, colorful graphics, and exciting games make it the perfect learning assistant to prepare kids for their school years ahead.
What's New
Version 1.0: N/A