This software is designed to let children unleash their creativity through drawing, painting, and utilizing various creative tools. It is user-friendly and engaging, offering a fun and enjoyable way for kids to express themselves artistically.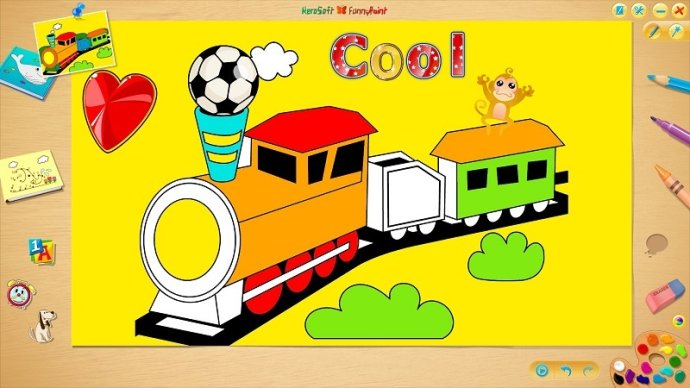 KeroSoft FunnyPaint is a fantastic software product for children who want to explore their creativity through digital painting and drawing. This program offers a plethora of different tools and creative elements that children can use to bring their artwork to life.

One of the standout features of this software is the comprehensive set of drawing and painting tools that it provides. These tools include pencils, crayons, paint brushes, paint buckets, and erasers, all of which can be customized in terms of size and thickness. Additionally, the Vivid Image Brush feature offers more than 20 templates that can be used to create a swirling chain-like effect on the canvas.

The texture brush is another great addition, allowing users to apply different textures to their artwork. Beyond these basic tools, KeroSoft FunnyPaint also offers interactive templates that kids can fill in with color, as well as Dot-to-Dot templates that help children learn letters and numbers by connecting the dots to complete an image.

Another excellent feature of KeroSoft FunnyPaint is the ability to record and playback the process of creation. This allows parents and teachers to see how their children work and understand their creative process.

Lastly, KeroSoft FunnyPaint supports Touch/Multi-Touch devices, making painting and drawing feel like a real-world experience. Kids can easily apply each tool directly to the screen, creating a more immersive and interactive experience.

Overall, KeroSoft FunnyPaint is a fantastic software that helps children unleash their creativity and imagination, while developing their motor skills and hand-eye coordination. Its unique features and intuitive interface make it an ideal choice for any young artist looking to explore the world of digital art.
What's New
Version 2.0: New release