Panda School Browser is a software for kids that offers access only to a pre-approved list of websites. It effectively blocks access to any other applications or software functions while in use.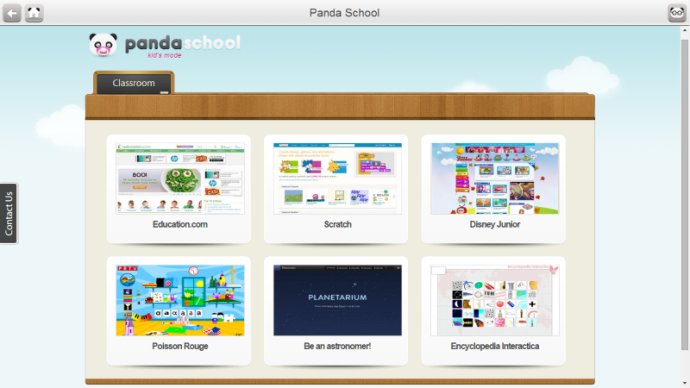 If you are searching for a browser specifically for children, you should definitely give Panda School Browser a try. This browser caters to children and provides access strictly to pre-approved websites and videos while ignoring external links and banners. With a constantly growing collection of content provided by the Panda School web service, you can easily add to the collection by any member of the community. And the content is strictly moderated by the staff.

One of the unique features of Panda School Browser is its ability to completely prevent access to any other application on your computer when it is running in 'Kids Mode'. You don't have to worry about your child navigating through applications, deleting documents or changing settings, regardless of whether they are left alone at the computer or not. Exit from 'Kids Mode' is also protected by a PIN.

The browser is designed to be easy to use for children, encouraging them to explore and learn. Parents have the option to pick which resources they want to add to their child's own 'Classroom'. But there is a default set of hand-picked resources which provide high quality educational games for children of any age.

Panda School Browser is easy to start with, and there is no additional configuration needed. You can sit back and let your children explore the internet safely, without any worries. This browser guarantees complete safety and lots of fun.

Bear in mind that no matter how great the application is, even the Panda School Browser can hardly substitute for parental involvement. Enjoy learning new things together with your child from time to time, and you'll be truly amazed by the results.
What's New
Version 0.9.4.2: N/A