AuDimix unleashes the true potential of musicians with seamless mixing, powerful effects experimentation, and audio fine-tuning. It offers a user-friendly interface to elevate tracks and revolutionize music creation.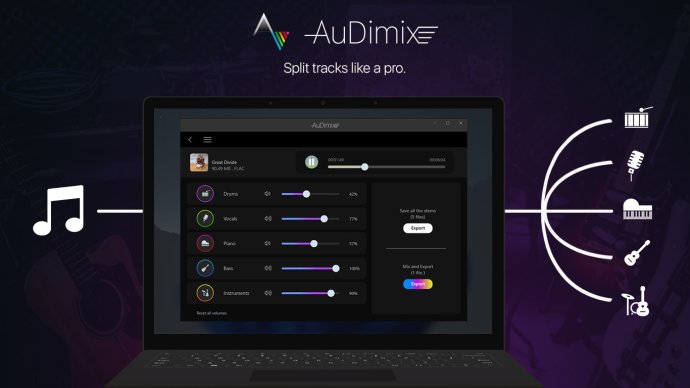 If you're looking for precision editing capabilities that enable you to fine-tune every element of your music with meticulous detail, AuDimix is the perfect app for you. With this app, you can adjust the volume, pan, and equalization settings for each individual track to ensure clarity and cohesion. As a result, you can achieve pristine audio quality, ensuring that each element of your mix stands out in the most impactful way.

AuDimix provides you with the tools to create flawless transitions between sections of your music, ensuring a cohesive flow throughout. Whether it's crossfading between tracks or smoothly blending in effects, you have the flexibility to craft the perfect transitions that engage your audience. Smooth transitions and seamless fades are essential for a polished and professional sound.

AuDimix boasts a user-friendly interface that simplifies the music production process. The intuitive controls and visual feedback make it easy to navigate through the app and make adjustments effortlessly. The streamlined workflow ensures that you can focus on your creativity and bring your musical ideas to life without any technical barriers.

Sharing your creations with the world is a breeze with AuDimix. You can export your tracks in high-quality audio formats and showcase your talent to audiences everywhere. Whether you're producing music for personal enjoyment, professional projects, or social media platforms, AuDimix equips you with the tools to make your music shine and captivate listeners worldwide.

Collaboration is made easy with AuDimix's collaborative features. You can connect with other musicians and producers, share project files, and work together in real-time to create music that surpasses boundaries. Whether you're working on a remix, a collaborative track, or seeking feedback from fellow artists, AuDimix facilitates seamless collaboration and enhances your creative process.

Finally, AuDimix also offers a vast library of samples, loops, and virtual instruments to expand your sonic palette. This feature enables you to explore different genres and experiment with new sounds, allowing you to create unique and captivating music. If you're a music producer looking for a powerful, user-friendly app that offers a myriad of features to take your creations to the next level, look no further than AuDimix.
What's New
Version 1.1.36.0: N/A
Version 1.0.21.0: N/A