Barcode Label Maker is a professional software designed for creating barcode labels visually in a quick and convenient way. It is the perfect solution for businesses that require barcode labels for their products or services.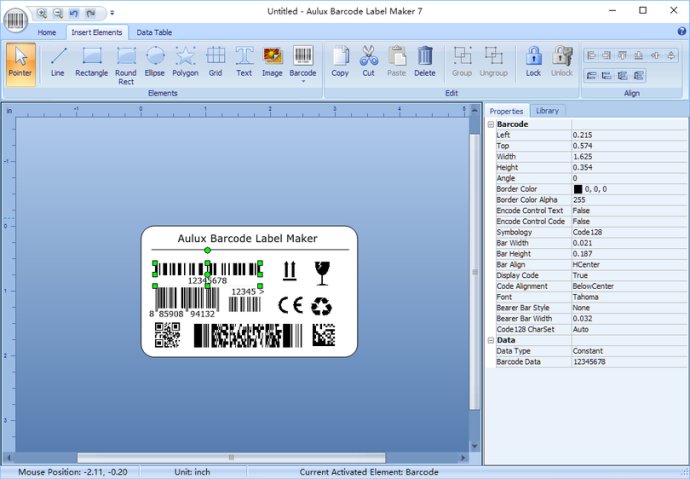 Barcode Label Maker is an essential software that every business needs for designing labels, creating barcodes, and printing custom labels with ease. This fully-featured label printing program impressively caters to all your labeling requirements such as including variable data like product codes and descriptions, logos, images, and barcodes in the labels.

Moreover, Aulux Barcode Label Maker's user-friendly interface makes it easy to create and produce great labels with embedded label templates, in any size required, with barcodes, text, shapes, images, and much more. The software brilliantly supports variable data for text, barcode, and image elements to enable performance with flexibility and efficiency.

The ability to import data from multiple data sources such as Excel, Access, and text files gives you the freedom to quickly access and update data required on your labels. Aulux Barcode Label Maker software also features a database connection and SQL query builder, making it easier than ever to use.

A practical feature of this software is the compatibility with most Windows compatible printers, including label printers, thermal transfer, inkjet, and industrial laser printers. Hence, printing various barcodes and labels as per your needs becomes effortless.

Lastly, the Barcode Label Maker produces over 30 types of barcodes such as Codabar, Code 128, and UPC-A, besides others, making it perfect for small to large businesses. It even supports popular 2D barcodes like QRCodes, Aztec, and MaxiCode.

In conclusion, Aulux Barcode Label Maker is a powerful software and efficient in designing and printing barcodes and labels. The software comes packed with features that make it a reliable tool for creating custom labels for any type of business operating in any sector.
What's New
Version 7.80: Added more than 20 new barcode types