Brilliant Database is user-friendly software for creating customizable databases. Its internal form editor can quickly produce databases with text fields, images, lists, and flags, among other data types. An ideal option for organizing all kinds of data in an efficient manner.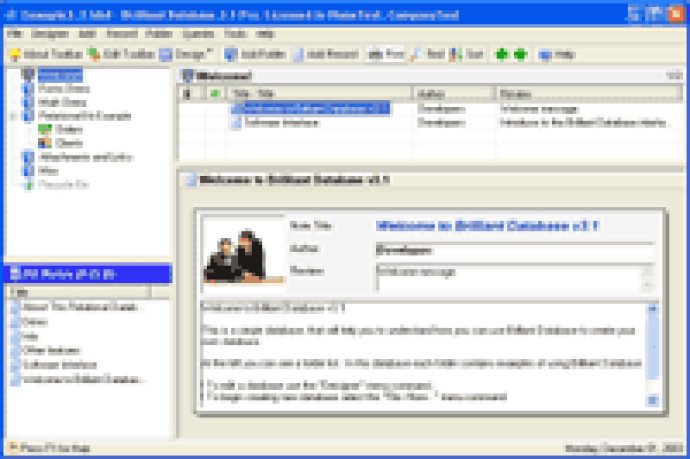 If you're looking for an easy-to-use software to create a database with no special knowledge required, Brilliant Database is the perfect fit. This software offers a range of features for maintaining databases, including information about personnel, customers, goods, important papers, and collections. In fact, you can create a database for any type of data you need.

One of the best features of Brilliant Database is the visual form editor, which makes creating new databases quick and easy. Simply choose the necessary elements and add them to the form. You can use lists, text, images, password storing fields, buttons, and more. Customize them with different properties such as color, font, location, style, or type. Additionally, you can create multiple forms to use as templates for printing reports.

Once your forms are set up, you can start working with the database. This software offers a range of useful features, such as the ability to attach any files to records in the database, an easy-to-use report editor, and form, table, or list presentation of data. You can also use a tree structure to organize the database and navigate it with hypertext links between records. Moreover, you have the option to sort, print, import, and export data as well as create backups and protect your data with a password. The peak database size is 4GB, and you can acquire images too.

In terms of cost, Brilliant Database is comparable to the cost of usual organizers and cataloguers and much less expensive than developing a new database. It is available for only $39.95. If you want an intuitive software for creating databases with powerful features, Brilliant Database is absolutely worth it.
What's New
Version 2.0: N/A