This chess program simplifies the organization of chess tournaments without adhering to official rules. Visit the support page for program details and additional information.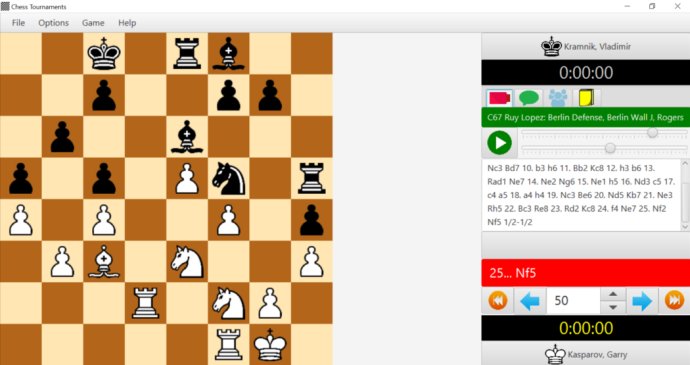 This chess program is perfect for organizing your very own chess tournaments in a manner that deviates from real chess rules. For more information on this handy program, simply head over to the support page.

One of the most helpful features of this program is the 'Data' folder it creates, allowing you to save all tournament settings and player notes. Additionally, players can either compete on a single device or through multiple devices by way of a network. Another useful feature is the display of squares that the mouse points to, thus reducing the likelihood of mouse-related errors. It is also possible to do moves via keyboard input.

Notably, the program does not display legal moves, emphasizing the importance of knowing chess rules beforehand; a fundamental rule in chess tournaments wherein players cannot inquire about legal moves during the game. However, the program displays the last move as a useful reference point.

Furthermore, the program has all necessary functionalities of a database manager, although it cannot analyze games via chess engines or create game variations. It follows the PGN format for the most part, though uses other formats as needed. Moreover, the program offers all possible time controls through chess clocks while also allowing users to implement more complex time controls from any position.

Upon finishing a game, all moves can be imported into the initial game and viewed seamlessly in one comprehensive game instead of multiple segments. The 'Add moves' section is also intuitive enough that there is no need to set up the initial position of the game—simply paste raw PGN game and let the program do the rest!
What's New
Version 2.0: N/A