CleverClients is ideal software for small businesses to handle client management efficiently. It helps businesses manage client details, appointments, and services provided in a hassle-free manner.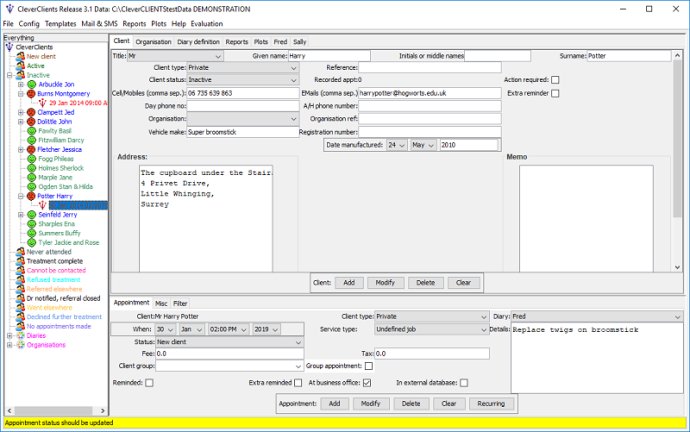 If you own a small business and need to manage your clients and appointments, CleverClients software may be just what you need. Whether your clients come to your location or your staff goes to theirs, this software is designed to be flexible enough to fit your needs. It's perfect for businesses like mechanics workshops, psychology practices, hairdressing salons, educational providers, plumbers, cleaners, pest exterminators, and many more!

One of the major benefits of CleverClients is the ability to configure the software to your specific business needs. Whether it's the services you provide or the fees you charge, this software can be set up to meet your unique requirements. You can even investigate several example businesses provided to see how CleverClients could work for you.

This software is especially useful for consultants who help small businesses or as a platform for other software services. It's easy to use and can streamline the process of managing clients and appointments. If you're looking for reliable and efficient software to help you manage your business, CleverClients may be the perfect solution.
What's New
Version 3.1.0.4: Fixes and improvements
Version 3.1.0.3: Fixes and improvements
Version 3.1.0.2: Fixes and improvements
Version 3.1.0.1: Fixes and improvements
Version 3.1.0: Fixes and improvements
Version 3.1: New release that is FREE and hosted on SourceForge