ClickBook is a user-friendly software that allows you to turn any document or webpage into a booklet, brochure, catalog, etc. You can easily print files from any application or the internet, and convert them to PDF for self-publishing.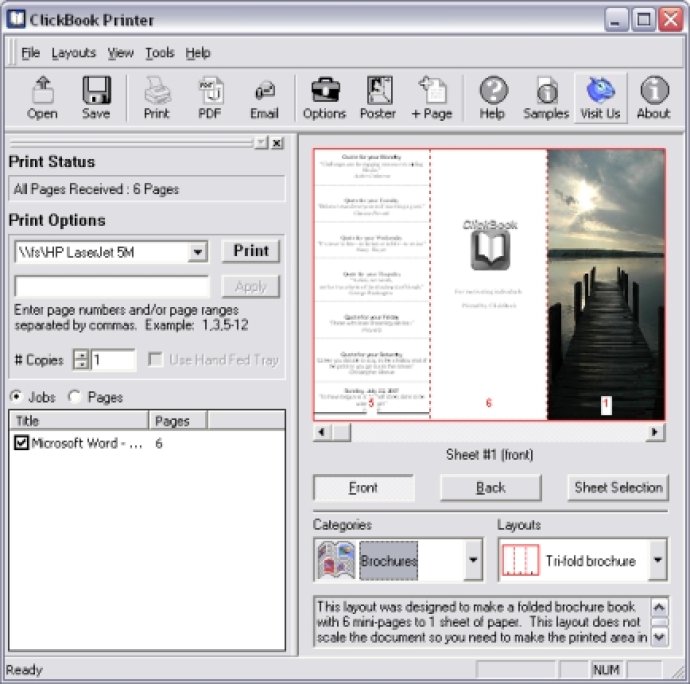 ClickBook is a powerful yet easy-to-use printing utility that allows users to print customized day planner pages, wallet booklets, brochures, greeting cards, catalogs, banners, posters, microfiche, and more from Internet, Windows, or CD-Rom files. With ClickBook, scaling, rotating, and duplexing digital photos, favorite online content, or other critical information into 140 plus mobile and convenient layouts is made possible.

What sets ClickBook apart is that users can even design their own custom layouts and save up to 75 percent in paper costs. Coupled with the ability to convert files to PDFs, ClickBook offers endless bounds of creativity for users. It walks users through double-sided printing, offers 80 custom booklet styles, rotates, reduces, and realigns documents automatically, and lets users combine files from different applications into a single printout.

Using ClickBook also means users can use their copy machine more effectively by printing files with ClickBook before making copies. To use this software, users simply open the file, graphic or web page they want to print, choose the File, Print command as they normally would, and then select 'ClickBook Printer'. ClickBook then opens with the file, allowing users to choose a layout, and poof, they have a booklet.

Another great feature of ClickBook is that it works with virtually any Windows application including Chrome, Internet Explorer, Firefox, AOL, Word, Excel, Access, WordPerfect, Open Office, Publisher, and thousands more. Utilizing Adobe Acrobat for Windows makes it even easier to print PDFs as a book with ClickBook.

In summary, ClickBook is an excellent tool for those who want to create customized booklets and brochures while saving on paper costs. Its ease of use, wide range of features, and compatibility with various applications make it a top choice for anyone in need of quick and efficient printing solutions.
What's New
Version 13.1: Vista 64-bit Compatible, Windows 7 (64-bit and 32-bit), Updated PDF Converter, Image Removal, Zine Layout, Create Letterhead, Create Custom Forms, Create Backgrounds Stationary, New Layouts, Improved Printer Setup