Color Catcher is a straightforward and efficient tool that captures colors from any location on your screen, making it the ideal pick-color option.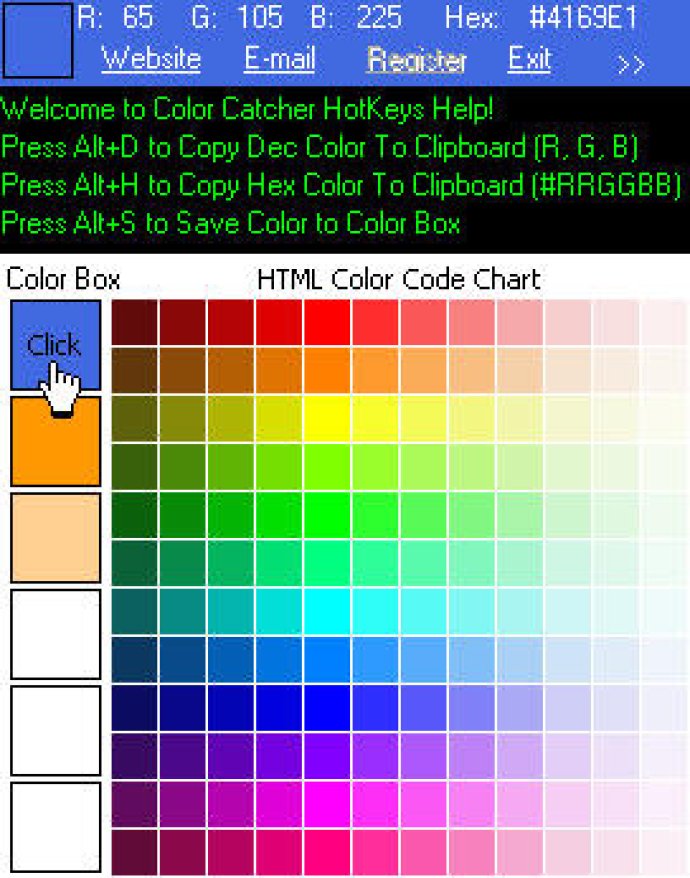 Color Catcher is a fantastic software tool that allows you to easily copy color codes into your clipboard. It boasts an outstanding Windows user interface that is intuitive and user-friendly. This program supports many kinds of color codes in various formats, making it versatile and great for anyone who works with a variety of codes.

One of the best features of this tool is the support it offers for system hotkeys. This allows you to catch color codes quickly and efficiently without interrupting your workflow. Additionally, Color Catcher comes with a helpful and free HTML color codes chart that can be used for all your website design needs.

With Color Catcher, you can pick colors from anywhere on your screen using its easy-to-use hotkeys. It supports a wide range of color codes including RGB, HTML, Flash, Delphi, C++, VB, Hex, Decimal, and Website design. Once you've picked your color, you can quickly copy the code to your clipboard and use it in other programs.

Whether you're a programmer or an HTML designer, Color Catcher is an incredibly useful tool that you'll enjoy using. It has a thoughtful design that won't interrupt your workflow, and it starts picking colors the moment you open it. This means all you have to do is move your mouse and press a hotkey to copy the color code you need.

Overall, Color Catcher is a fantastic software that works efficiently and offers all the features you could need in a color picking tool. Get it today and make your color-code picking experience a breeze!
What's New
Version 3.6: N/A