This software efficiently batch converts photos, optimizes them for the internet, and allows for easy organization in subfolders. It is ideal for preparing email attachments and is optimized for multi-core processors, allowing for faster conversions using 100% of your CPU.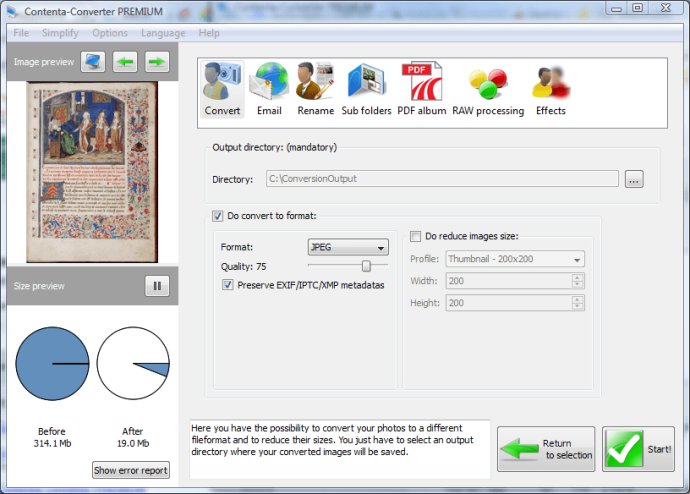 Are you tired of manually optimizing and organizing all of your photos? Look no further than the Batch Photo Processor software. With this user-friendly tool, you can optimize your photos for internet use, batch rename your files, and even organize your images into subfolders.

The software supports over 50 image formats, including popular options like JPG, JPEG2000, GIF, and PNG. With the ability to select multiple images at once and customize your conversion parameters, you can quickly and easily transform your photos. Plus, the preview quality and file size options ensure that you get the exact results you want.

But that's not all. The Batch Photo Processor also has options for batch file renaming, allowing you to organize your files based on the camera model, date, and filename. It can even automatically create subfolders based on the camera model and creation year.

For those looking to take their photo processing to the next level, the software offers batch RAW processing. You can adjust settings like brightness, white balance, and denoising to develop your RAW images.

And if you want to share your photos online or in print, the Batch Photo Processor has you covered. It offers the ability to create PDF albums and order prints with just a few clicks.

Overall, the Batch Photo Processor is a practical and efficient software tool for anyone who wants to save time while processing their photos. It's optimized for multi-core processors, meaning you can get the most out of your CPU, and it comes with a one-year update protection and technical support with purchase of a license. So why wait? Download the Batch Photo Processor today and streamline your photo processing workflow.
What's New
Version 6.5: N/A