Exif Tag Remover is a tool that swiftly eliminates Exif and other metadata tags, allowing users to protect their online privacy. Prior to sharing images, sensitive information can be eradicated for enhanced security and peace of mind.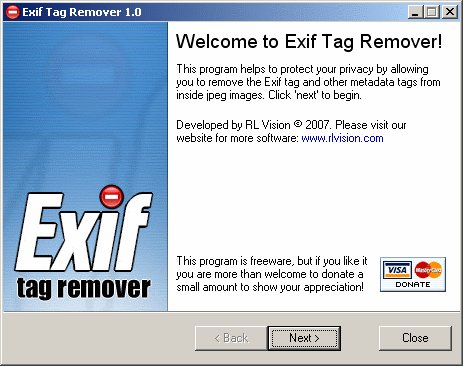 Exif Tag Remover is an efficient software that allows you to remove metadata tags from your JPEG images effortlessly. Its main purpose is to facilitate the deletion of not only the Exif tag, but also other metadata tags that might be embedded in your files.

As you're probably aware, metadata tags are informational elements added to your files by your digital camera or photo editing tools. These tags consist of Exif, IPTC, XMP, GPS, and Comments, among others. While they can sometimes be beneficial, there are several reasons why you might prefer not to include them in your published images.

This is where Exif Tag Remover excels. By utilizing this software, you can swiftly and easily eliminate these tags before sharing your images with the world. Doing so not only safeguards your online privacy but also enhances the overall quality of your visuals.

In conclusion, if you're seeking a straightforward and effective method to manage your JPEG image metadata, Exif Tag Remover is definitely worth exploring. Its user-friendly interface and comprehensive functionality make it an invaluable addition to your software arsenal. Give it a try today!
What's New
Version 6.01: Support GeoTIFF tags. Add built in metadata viewer. Add 15 image format.
Version 6.0: Support GeoTIFF tags. Add built in metadata viewer. Add 15 image format.