This software allows for batch converting photos while optimizing them for internet use. It also includes the ability to batch rename and organize photos in subfolders, making it a practical tool for preparing email attachments. It is optimized for multi-core processors, allowing for faster conversions by using 100% of the CPU.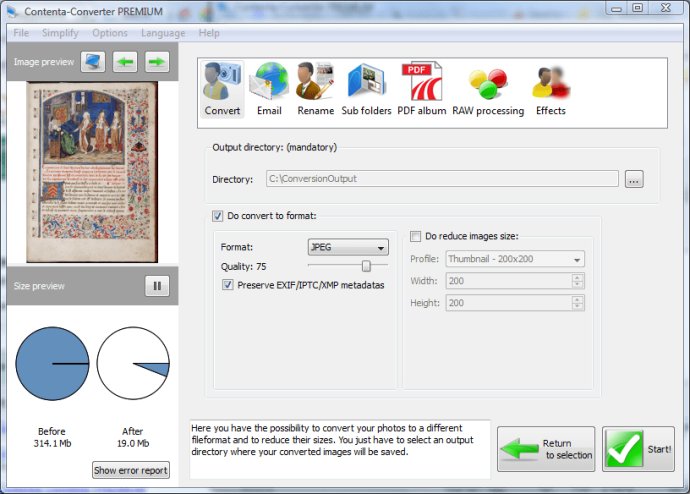 If you're looking for a software to batch convert your photos, look no further than this handy tool. Not only does it optimize photos for internet use, but it also allows for batch renaming and organizing in subfolders.

With the ability to handle over 50 different image formats, including JPG, JPEG2000, GIF, PNG, TIFF, BMP, WBMP, TARGA, PPM, and more, this software is a flexible option for many needs.

Select your images and customize your conversion parameters, preview quality and file sizes, and then simply press Start! This software makes batch file renaming a breeze, automatically organizing files into sub-folders - such as by camera model and creation year.

In addition to its speed and flexibility for batch photo processing, this software also allows for easy creation of PDF albums, online photo sharing, and order printing. Customize the layout and number of images per page for a personalized touch on your e-book.

For power users, there is even batch RAW processing available to help develop your RAW images, allowing you to adjust parameters like brightness and white balance, as well as denoising.

This software is optimized for multi-core processors and uses up to 100% of your CPU to speed up your conversions. And with a one-year update protection and technical support guarantee, you can rest assured that you're getting a reliable and supported software solution.
What's New
Version 6.5: Support for latest OS. Speed improvements.