Crossword Construction Kit enables users to craft customized puzzles, choosing the shape and page layout and generating puzzles by entering words and corresponding clues. The generated puzzles can be saved as images, printed, or solved online via uploaded web pages.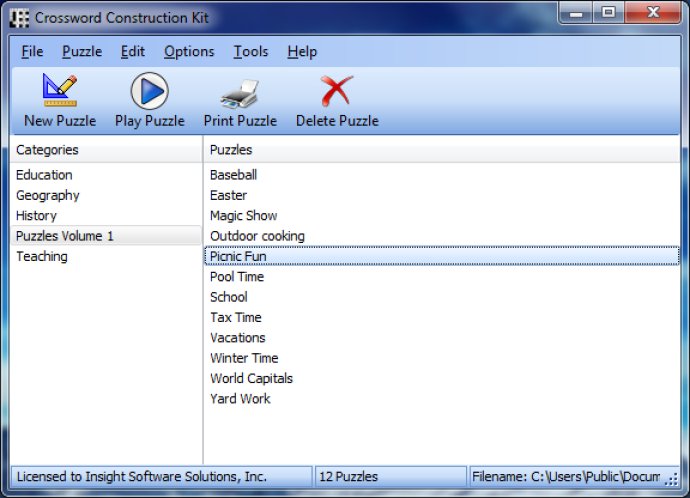 Crossword Construction Kit is an outstanding software tool that caters to educators, students, publishers, corporate trainers, and puzzle aficionados. With this software, users can rapidly generate puzzles that possess a professional look. Simply enter the words and clues, select a puzzle shape and page layout, and press a button to achieve the desired puzzle. The software provides users with the ability to design their own puzzle page layout. They can effortlessly drop, place, and size the puzzle, graphics, and text components onto the layout. Once done, users can print and have their great looking puzzle in minutes.

Exporting the puzzle is also possible with Crossword Construction Kit. Users can export the puzzle to the Windows clipboard, as a bitmap, JPEG, or metafile and load it into their favorite graphics program. The software offers an added advantage of creating interactive puzzles, which users can solve using the Puzzle Player that comes with the software. Additionally, users can upload puzzles to web pages where people can play and solve the puzzles online. The software also enables users to add features like timers and sound effects to make the experience even more enhanced and enjoyable.

Crossword Construction Kit is a vital tool for teachers, corporate trainers, and other individuals who need to quickly generate puzzles for their students, employees or friends and family. The software boasts several features, including spell check in eight different languages, a thesaurus of over 50,000 words to aid in generating clues, creating puzzles in various shapes using included shapes or designing their unique shapes. It allows users to organize puzzles by category and manually fit in additional words and clues.

Users can print answer keys, partial answer keys, or selected letters as hints. Additionally, the software also empowers users to design their page layout, select fonts, colors, columns, and borders, among other things. Other features include the 'Make It Fit' feature, which allows users to choose paper size, export completed puzzles as a graphic image or in a playable Java format. In summary, Crossword Construction Kit is an all-in-one software tool for generating puzzles that caters to various users from different backgrounds.
What's New
Version 5.0.1.1: Updated code certificate. This update is required if you publish puzzles to a website.