This software recovers various format image files including TIFF, GIF, JPEG and JPG from a logically crashed hard disk. It restores lost pictures due to hardware malfunction.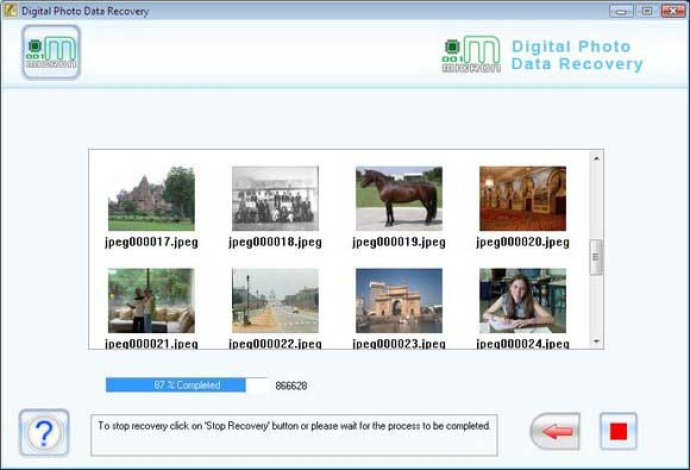 Digital picture recovery software is a powerful utility that guarantees reliable and non-destructive retrieval of erased photographs and images from all types of storage media. This includes hard disks, memory sticks, pen drives, and compact flash memory cards. The image retrieval utility can even recover deleted JPG, GIF, and JPEG files, even if your PC cannot access the hard disk.

With this photograph restoration tool, you can easily retrieve lost or missing snapshots and images from your USB thumb drive. If your photos have been crashed, this digital picture salvage program can restore them, even if there is corruption of master boot records (MBR).

This image recovery software is compatible with various versions of Windows operating systems, including 98, NT, XP, and Vista. Users will also find the interactive graphical user interface (GUI) user-friendly, which assists both technical and non-technical users in operating the software.

In addition, this image rescue tool provides support to all major digital storage media brands, including Seagate, Kingston, Olympus, Transcend, and Nikon, among others. Moreover, the software retrieves deleted photos and images from mobile phone memory cards.

The features included in this digital picture recovery software include data restoration of lost or missing images, photographs, and snapshots from logically damaged hard disks. The application recovers picture files deleted due to worm/virus attack, improper device usage, or any other kind of failure to access data.

You can also restore formatted pictures or snaps from all types of storage devices such as USB hard drive, smart media, and xD picture card. Another noteworthy feature is that the digital picture salvage program shows a preview of scanned image files and folders before actual recovery. Finally, this digital image recovery tool can even retrieve corrupted photographs, even when the "Drive Not Formatted" error message is displayed on your desktop computer.

All in all, digital picture recovery software is a reliable and cost-effective solution for recovering lost or damaged images and photos from all types of storage media.
What's New
Version 4.0.1.5: Added support to all formats of pictures