DNA Baser Assembler is user-friendly software designed for seamless DNA sequence assembly, analysis, editing, and mutation detection from simple to batch sequences. Its features also include metadata integration and a robust chromatogram viewer/editor.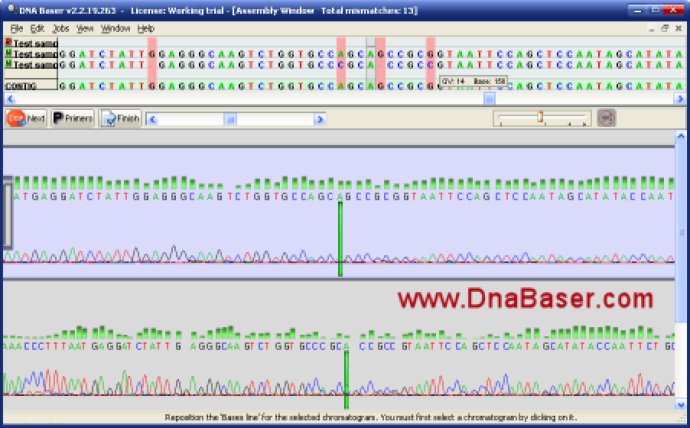 DNA Baser Assembler is a top-notch software that simplifies the process of DNA sequence assembly, analysis, contig editing, metadata integration, and mutation detection. It also includes a powerful chromatogram viewer and editor. The software's user-friendly interface makes it the optimal choice for DNA contig assembly. For additional information, check out the DNA BASER Features page.

What distinguishes DNA Baser Assembler from the competition? Unlike other software companies, DNA Baser concentrates on adding automatic and batch functions to its product to decrease assembly time. Additionally, DNA Baser is available at an unbeatable price. Why take the time to manually trim the low-quality ends of your sequences when DNA Baser Assembler can do it for you?

Do you anticipate spending weeks assembling hundreds of contigs? Rather than days, contig assembly is completed in mere minutes with DNA Baser, which can automatically detect and assemble sequences belonging to the same contig based on their filenames. Rather than spending over 20 minutes correcting discrepancies and mismatches in each contig, DNA Baser is the first software that correctly suggests solutions in at least 98% of cases.

Have you ever wondered how other laboratories can afford to have sequence assembly software in every computer? The answer is simple: DNA Baser Assembler. DNA Baser is cost-effective, requires no annual maintenance fees, and technical support is included in the price, with instant access to your key after purchase. There is no need to fill out and submit forms to obtain a trial version. If you want to try it, you can download and install it in less than one minute. No personal data or registration process is necessary. The trial version is fully functional.

For the most up-to-date information, visit us at our website.
What's New
Version 4.10: Version 4 brings over 250 new features and improvements:

Mutation detection: single/multiple organisms, multiploid/diploid/haploid
Advanced SNP detection - Offers you the most accurate solution on the market.
Automatic homopolymers error correction
Chromatogram preview