DNAssist is user-friendly software for displaying, editing, and analyzing DNA samples. It functions like a word processor, facilitating copy, paste, cut, drag, and drop actions. It supports simultaneous editing in multiple windows, providing a convenient interface for efficient DNA analysis.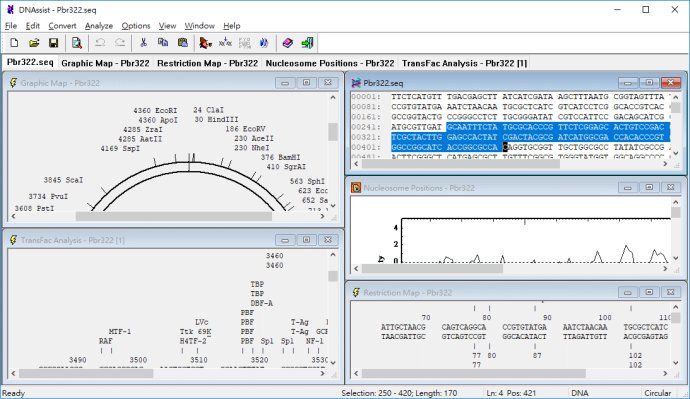 DNAssist is an exceptional software designed specifically for analyzing and editing sequence files. One of its standout features is its user-friendly interface, which ensures a seamless experience for users. Additionally, the software allows for easy customization of the display by selecting font, font size, and line length, which greatly enhances comfort during work sessions.

Analyzing a sequence with DNAssist is a breeze - simply bring the editor window to the top and select the desired analysis from the menu. It even allows users to perform analyses on specific regions of the sequence within the editor window. Another convenient feature is the ability to right-click the mouse to access a context-sensitive popup menu, which provides quick access to most menu items.

With a wide range of analyses available, DNAssist is a comprehensive package that caters to all your sequence analysis and editing needs. Some of the notable analyses include translating a DNA sequence to its corresponding amino acid sequence, locating open reading frames, finding specific sequence patterns within a sequence, performing restriction enzyme and DNA promoter analyses, identifying strong nucleosome positioning signals in DNA, conducting multiple alignments of DNA, RNA, or proteins, determining the molecular weight of a nucleic acid or protein, and calculating various protein properties like pI, hydrophilicity, hydrophobicity, and antigenicity. Additionally, DNAssist enables users to obtain the molar absorption coefficient, E0.1%, and nucleotide/amino acid composition of nucleic acids or proteins.

In conclusion, DNAssist is an essential software for scientists and researchers who work extensively with sequence files. Its integration of numerous features into a single, tightly integrated Windows application sets it apart. The software conveniently displays analysis results in a dedicated result window, which can be printed, saved to disk, or copied and pasted into third-party applications without losing formatting.
What's New
Version 3.11: Upgrade msvc runtime.
Version 3.10: Fixed displaying Graphic Map