Explore five different cellular automata with this software, including q-state Life, the Belousov-Zhabotinsky Reaction, Togetherness, Viral Replication, and Diffusion-Limited Aggregation. A great tool for those interested in modeling and understanding complex systems.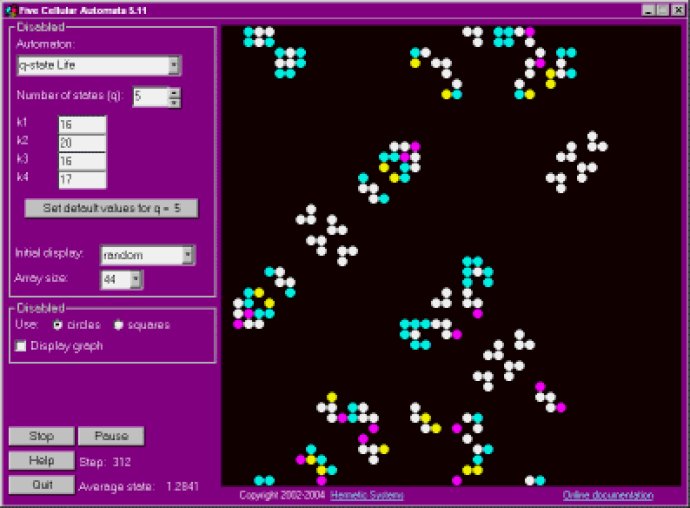 This software provides a comprehensive exploration of five different cellular automata. Each cellular automaton is composed of three main components: a structure of cells (similar to the squares on a chess board), a set of values or "states" associated with each cell, and a set of rules dictating how the system will transform or convert from one state to another state.

The five cellular automata included in this software are as follows:

1. An extended version of Conway's Life, called q-state Life.
2. A simulation of the Belousov-Zhabotinsky chemical reaction, which produces spirals and curlicues from a randomly initiated state.
3. Togetherness, a process in which cells with random states move to maximize the number of neighbors with the same state. This forms clusters of cells of varying sizes and shapes.
4. Viral Replication, a simulation representing dividing cells subject to viral infection.
5. Diffusion-Limited Aggregation, an illustration of a process where particles diffuse and aggregate to form a fractal structure.

In addition to the software, there is ample documentation containing a complete description of the algorithms used. As such, users can explore advanced concepts in these cellular automata with ease.
What's New
Version 11.44: N/A