DSP Lab is a simulation software for digital signal processing that mimics and displays the procedure of sampling and filtering analog signals through a DSP system.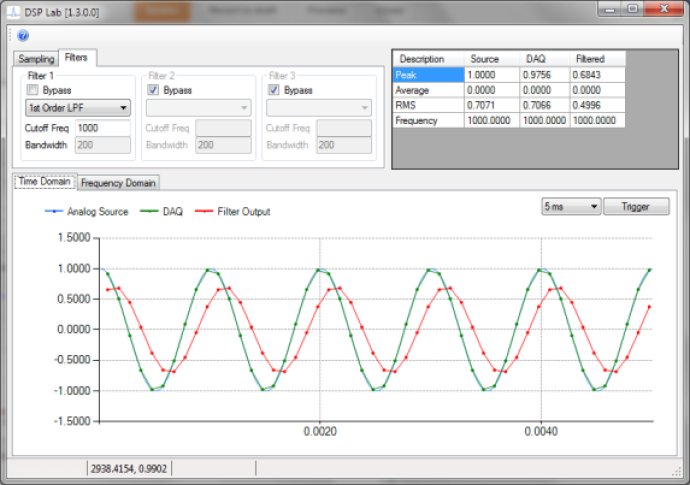 The DSP Lab software is an exceptional digital signal processing simulation application that has been specifically designed to simulate and visualize the process of sampling and filtering an Analog signal using the DSP system. This software has been produced for the purpose of providing educators and students with a tool that will enable them to visualize and understand the DSP system with ease.

The features that are included in this software make it a remarkable tool to have. Among the standout features include; the Virtual Signal Generator, Fourier Transform, Digital Filter Implementation, Convolution Demo and Frequency Response. The Virtual Signal Generator, for instance, enables users to produce signals that can then be manipulated to produce the desired outcomes.

The Fourier Transform feature is an exceptional feature that allows users to convert any signal into its respective frequency domain, making it easier to analyze and understand. The Digital Filter Implementation (IIR, FIR) function permits users to implement any filter type they desire. This function is a great illustration of how filters operate by allowing users to change various filter parameters.

The Convolution Demo is another extraordinary highlighting feature of the DSP Lab software. It allows users to understand how signals interact with one another by-passing signals through filters. Last but not least, the Frequency Response feature grants the user a visual representation of the frequency response of the output signal that helps to facilitate the users' understanding of the input signal in specific cases.

In conclusion, the DSP Lab software is an excellent digital signal processing simulation application that is ideal for educators and students who need to visualize and understand the DSP system. Get DSP lab software today, and enjoy the benefits of understanding Digital Signal processing effortlessly.
What's New
Version 3.0.0: GUI Redesigned. New Features Added.