In the game of 2505, control the EcoBall and save the earth from destruction by cleaning up the ozone layer. The game has straightforward controls requiring only two buttons, and features colorful graphics and an enjoyable soundtrack. It can be played with either a keyboard or joypad.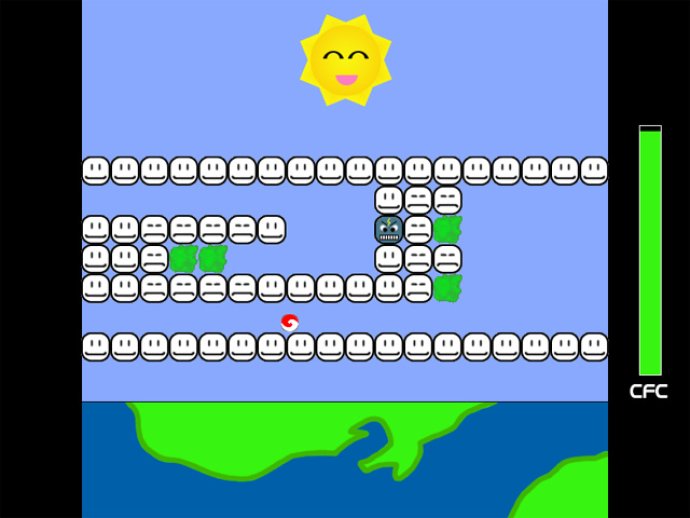 This is a software review of a game called 'Ecoball' set in the year 2505. In this game, the ozone layer has been severely damaged by CFC gases, resulting in dangerous solar radiation that turns humans into mutant apes. To prevent further environmental destruction, a group of scientists developed a remote-controlled device, known as the Ecoball.

As the pilot of this ball, it's your responsibility to collect the dangerous gases from the air and save the planet. But be warned, controlling the Ecoball won't be easy. Equipped with only vertical thrusters, you must maneuver around storm clouds that can bring your plans to ruin.

Despite the challenge, Ecoball is a game filled with features that will keep you entertained. With only two buttons required, the controls are simple and easy to learn. The graphics are colorful and the music is fun, immersing players in the game's futuristic world.

Ecoball can be played using a keyboard or joypad, making it accessible to everyone. And if you're looking for some friendly competition, you can check out the online high score table where you can compare your scores and times with other players. Alternatively, you can compete with family and friends using the offline high score table.

In summary, Ecoball is a fantastic game that engages players with its futuristic storyline, challenging gameplay, and exciting features. So, what are you waiting for? Get behind the controls and start saving the planet!
What's New
Version 1: Ecoball is now freeware.