GameDrive enables gaming enthusiasts to turn their PC games into digital files that run seamlessly on their hard drives. Users can now play their favorite games without the need for a physical disc, thanks to the software's virtual disc launch feature, which provides access rates of up to 200 times faster than a CD.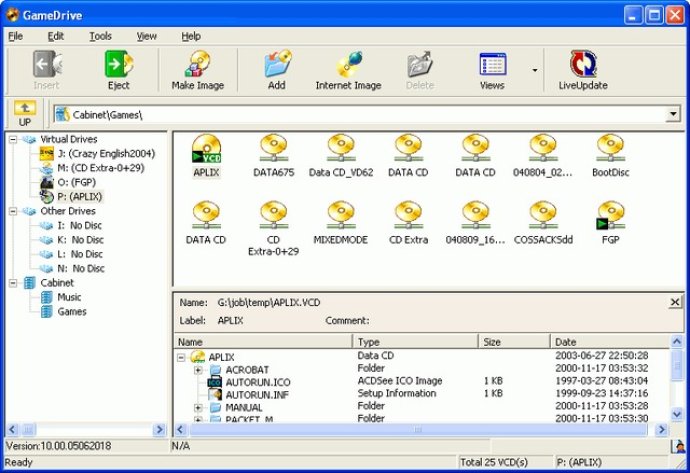 If you're looking for a software solution to protect your discs against loss, theft, and damage while simultaneously enjoying superior performance, GameDrive 10 CD / DVD emulator is an excellent option to consider. This software creates virtual copies of CDs and unprotected DVDs that you can play in place of physical discs. These virtual CDs run directly on your hard drive, saving wear and tear on your CD-ROM drive and extending the battery life of laptop computers.

Additionally, virtual CDs can be shared over a network and stored and transported on a laptop computer or USB device. As a bonus, they have access rates nearly 200 times faster than physical CDs, greatly accelerating the performance of PC games.

One of the standout features of GameDrive 10 is its ability to pre-load up to 23 virtual CDs and swap them out via hot keys for a seamless transition between volumes of a game. GameDrive 10 has some of the best game support in the industry and runs on both 64-bit and 32-bit systems.

Creating virtual copies of your discs is easy with GameDrive 10. The wizards make it a snap to create your virtual discs and manage them in a searchable virtual CD library. GameDrive 10 now supports 64-bit operating systems, making it an even more versatile option for gamers and professionals alike.

Overall, GameDrive 10 is an outstanding software solution for anyone looking to protect their discs against damage or loss, while at the same time improving the performance of their PC games. With its fast access rates, seamless swapping between virtual CDs, and top-notch game support, GameDrive 10 is a must-have for anyone who loves gaming or relies on CDs and DVDs for work.
What's New
Version 10: 64-bit support