GiMeSpace Desktop Extender is a straightforward software for Windows XP and newer versions that enables users to extend their desktop without any constraints. With the simple movement of the mouse to the edge of the screen, users will access their infinite desktop space.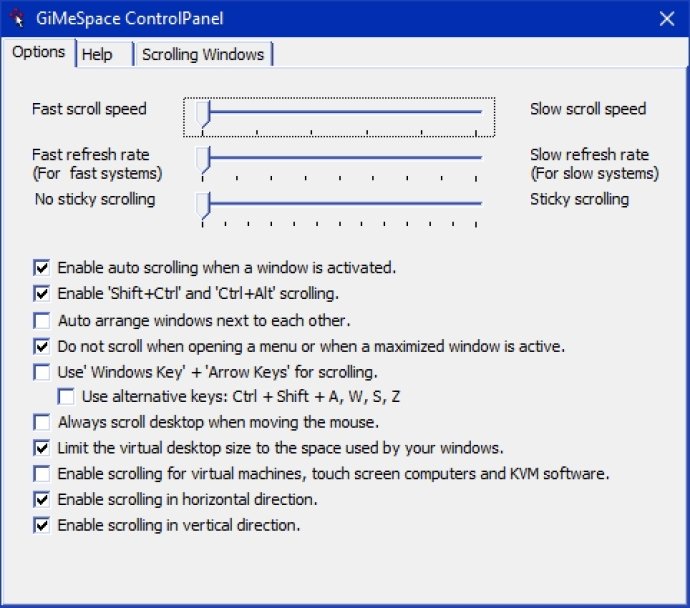 GiMeSpace Desktop Extender is an excellent software that offers a comprehensive way to utilize your desktop. The program is easy to use and compatible with Windows XP and later versions. With this program, users can expand their desktop without any boundaries. Simply move your mouse to the edge of your screen, and your normal desktop borders will extend. The software also provides a popup navigator panel, which helps you view your whole stretched desktop and move your windows around. In addition, the program is an affordable choice to add more monitors to your computer.

The latest version includes a new feature that allows you to resize windows beyond the physical screen size. This is a practical solution for computers with small screens like netbooks. If you opt for the registered version, you can select the autoarrange option to maintain your windows' position next to each other. Another advantage of the program is that you can take screenshots of your full desktop, providing an accurate impression of your whole extended desktop.

GiMeSpace Desktop Extender offers multiple options to make your desktop more user-friendly. You can select the auto-scroll option, and the desktop will scroll automatically when you move the mouse. Other features include sticky scrolling, no more scrolling when you hit the border, scroll one screen at a time, and scroll using the keyboard. There's also an option to select windows that you don't want to scroll, such as toolbars, and you can pick a custom background image for your overview panel. You can limit the virtual desktop to the space used by your application windows and even save and restore the positions and sizes of all your windows.

This program is an ideal solution for those looking for an affordable and efficient way to enjoy added desktop space. It enables users to enjoy the pan and scan feature of Windows XP on Windows Vista and later. Try out the free trial version to test out the software's features and experience the benefits of more desktop space.
What's New
Version 2.5.3.186: Allows now reverse scroll direction so the choice is now between scan and pan scrolling and scrolling like with touch screen devices.