ICL-Icon Extractor is a software tool that allows users to extract icons from different sources and store them in special collections. It can be used to customize standard Windows icons by retrieving them from a library or Internet location.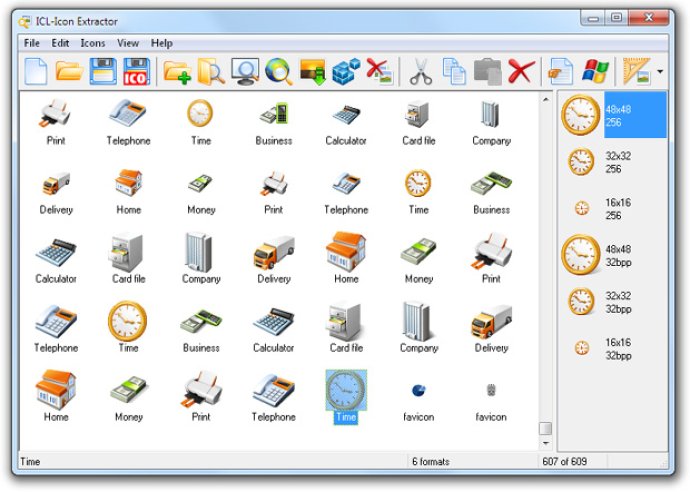 ICL-Icon Extractor is a comprehensive software tool that is designed to allow searching and extraction of icons from any location. It is capable of extracting icons from a wide range of sources including files, folders, icon libraries, web collections, and archives. An added capability of ICL-Icon Extractor is the ability to extract and save Windows Vista icons.

The software is capable of extracting icons from various libraries including ICO, CUR, ANI, EXE, ICL, DLL, SCR, IL, NIL, DCR, RES, OCX, and others. Extracted icons are saved in special ICC icon collections along with their source information. These collections help in sorting, locating, and viewing icons in several display modes such as 16x16, 32x32, 48x48, Monochrome, 16 Colors, 256 Colors, or True Color.

ICL-Icon Extractor allows users to export icons to different formats such as ICO, PNG, JPG, CUR, GIF, XPM, and BMP. The software also enables users to archive icons in ZIP files, delete duplicate icons, and split icon libraries into individual icon files. Icon customization is made possible with the Customize Windows Icons dialog, making it quicker and more convenient than using the standard Windows method. Users can change icons of different parts of their Windows desktop, start menu, drives, and folders in just one click.

Icon Empire, the developer of ICL-Icon Extractor, also offers other software tools such as Icon Producer, Icon Boss, Icon Superior, Icon Colonel, Icon Corporal, Icon Sergeant, Icon General, Icon Brigadier, Icon Marshal, Icon Lord, Icon Emperor, and Icon Prof. The company was founded in 2005 and has been focused on developing graphics processing programs for the Windows platform.

Overall, ICL-Icon Extractor is an excellent icon extraction tool that offers a wide range of capabilities. Its ability to extract icons from different sources and save them in different formats makes it a valuable tool for graphic designers and developers. Its user-friendly interface and customization options make it a practical tool for Windows users who want to customize the look of their desktop icons.
What's New
Version 5.14: Improved: Support for 64-bit DLLs