The Icons8 app offers a vast collection of 135,000 icons that are accessible on your computer. These icons can be used in various formats, colors, and sizes to cater to your design needs.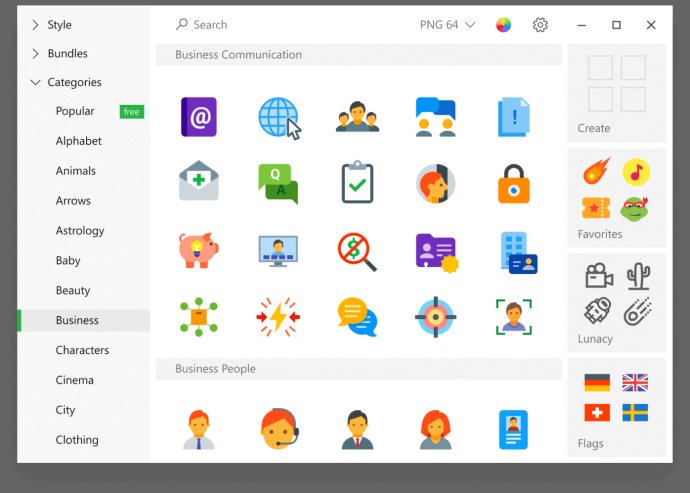 Pichon is an exceptional desktop application that should be at the top of your list if you're in need of a comprehensive collection of pixel-perfect icons. This software offers easy access to over 135,000 stunning icons, all available in 33 popular styles. No matter what design tasks you have in mind, Pichon has the perfect icons to enhance your work.

One of the best things about Pichon is how simple it is to use. Customizing and selecting icons is a breeze. You can effortlessly choose the color and size that matches your needs and then drag-and-drop the icon onto your design tool. It's as easy as that! Additionally, all icons within Pichon are customizable and consistent, ensuring a seamless user experience. Furthermore, you have a wide range of sizes and formats to choose from, including PNG, ICO, SVG, PDF, EPS, and XAML, ranging from 25x25 to 500x500 px.

Pichon also provides various ways to search for icons, with options to browse by keywords, category, or style. Additionally, you can recolor icons with just a few clicks, allowing for complete customization to match your design vision. Another advantage is that Pichon can be used offline, providing easy access to all icons whenever and wherever you need them.

Moreover, Pichon comes with reasonable usage terms. The basic sizes (up to 100 px) in PNG and ICO formats are available for free as long as you include a link to Icons8.com. However, larger sizes and vector formats require a paid Icons8 subscription.

With a wealth of positive reviews, Pichon has become a fan-favorite software. According to CNet, it is "an excellent download software for developers and user interface designers who use Photoshop and Xcode on a daily basis." Users on Twitter have also shown their appreciation, with comments like @a_felipe_santos stating, "I'm probably late for the party, but this #Icons8 app is one cool tool." These sentiments confirm that Pichon is truly an app worth downloading. Before installing, take a moment to see what others are saying about Icons8 on Twitter. You won't be disappointed!
What's New
Version 10.0.0.0: We've introduced many great changes to the app! Now you can:
— download huge stacks of Icons8 photos and illustrations besides the usual icons
— create personal icon collections and export them in SVG, PNG, and PDF
— change the colors of monochrome icons
— and use the Dark Mode.
Version 9.6.8.1: Fixes and improvements.
Version 9.6.8.0: Fixes and improvements.
Version 9.6.8: Fixes and improvements.