This software offers a variety of Rummy games including Indian, Gin, 500, Oklahoma, Michigan, Boat House, Pinochle, Kaluki, Round the Corner, One Meld, and Wild Card Rummy. Enjoy multiple game modes and customizable settings for an immersive card game experience.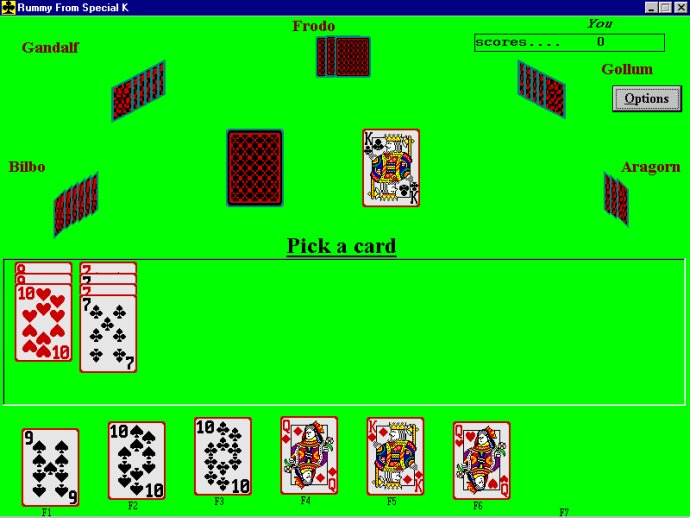 If you're a fan of card games, you'll love Indian Rummy from Special K. This software allows you to play a variety of games in the Rummy family, including classic options like INDIAN RUMMY, Gin Rummy, and more. With so many choices, you're sure to find a game you love.

One of the best features of Indian Rummy from Special K is its realistic atmosphere. When you use this software on your Windows computer, you'll be transported into the world of Rummy with animation and sound. You'll feel like you're playing a real-life game, even if you're sitting at your desk.

Another great thing about Indian Rummy from Special K is the flexibility it offers. You can choose from different rules, playing styles, scoring techniques, and up to six players. If you're really picky, you can even customize your own rules so that you can play the game exactly as you're used to.

The software is also user-friendly and supports various screen resolutions and sound cards. You'll be able to see and hear everything clearly, even if you have an older computer. Plus, Indian Rummy from Special K comes with a comprehensive help file that describes the rules and playing logic, making it perfect for both experts and beginners.

Overall, if you're looking for a fun and engaging way to play card games on your computer, Indian Rummy from Special K is a great choice. With a wide range of games and customization options, you'll never get bored. Plus, the realistic atmosphere will keep you engaged for hours on end.
What's New
Version 3.22: improved logic and display