The iPod data retrieval software recovers all types of media files such as images, videos, audios, and albums from major iPod brands. It also supports multiple formats like mp3, mp4, png, and tiff for reliable restoration.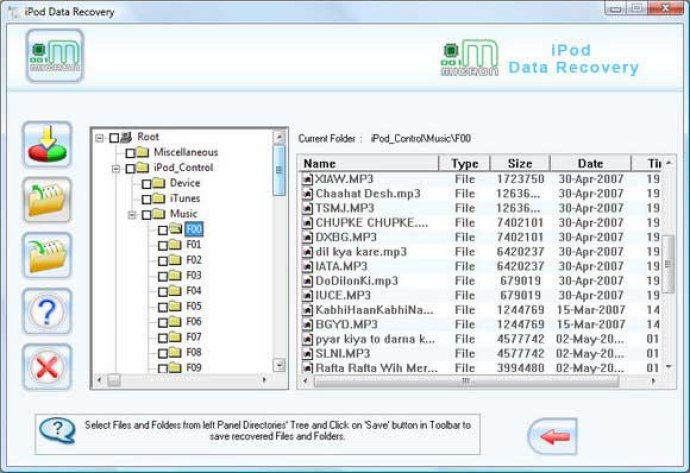 The Apple iPod Music Salvage Utility is a powerful tool that enables users to recover all their misplaced or erased music files, audio, video albums, mp3, mp4, aif, m4p, m4a, m4b, m4v, aac, wav, mpg, aac as well as photos, pictures and images from their iPods. This iPod mp3 file recovery software is capable of retrieving data after deletion and formatting is performed by both Microsoft Windows and Apple Macintosh operating system.

With its iPod shuffle music retrieval application, users are guaranteed to salvage all their lost, formatted music files from their iPod and restore them again in a safe location. This professional iPod song rescue software supports all major iPod brands such as Samsung, Toshiba, and Sony, among others. Moreover, it can also support all iPod models including iPod Hi-Fi, iPod U2, iPod Classic (first to sixth generation), iPod Nano (up to third generation), iPod Mini (up to second generation), iPod Shuffle (up to second generation), and next-generation series.

The iPod data recovery software even supports various iPod models of storage capacities ranging from 512MB, 1GB, 2GB, 4GB, 8GB, 10GB, 20GB, 40GB, 60GB, 80GB, 160GB, and even more. Some of its incredible features include retrieving misplaced, corrupted music files, image folders, songs, pictures, and many more.

This iPod shuffle data undelete tool is capable of restoring all deleted, lost audio, video album files, folders from iPod music player system. It provides data recovery support on all Windows operating systems such as 98, ME, NT, 2000, 2003, XP, Vista Home Basic, Vista Home Premium, and many more.

The Apple iPod data restoration utility is perfect for rescuing erased images, picture files from different iPod models like iPod mini, nano, shuffle, iPod classic, and many more. Also, the iPod data backup utility is capable of recovering various types of music file formats like mp3, mp4, m4v, etc. Users are guaranteed to enjoy top-notch service with this fantastic iPod music salvage utility.
What's New
Version 5.8.3.1: Added support for all latest higher capacities iPod models