Create custom word searches in three simple steps with a user-friendly application. Choose words, customize size and directions, and export or print the puzzle. Interactively solve it with ease.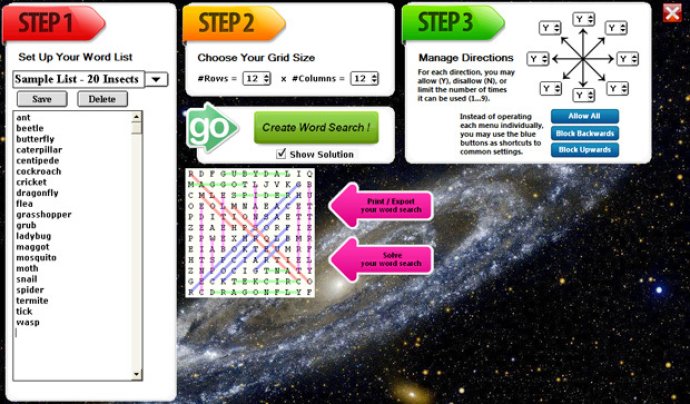 This software allows you to quickly and easily build customizable word-searches. With it, you supply the word lists, and the program saves them for future use. You also have control over the size of the grid, including the number of rows and columns. Additionally, you can decide which directions are allowed or set limits on each.

With just a click of the 'Create' button, your word search is ready to print, export to a publishing program, or solve interactively. You can even opt to show solutions instantly and get the random pattern of your choice. Plus, when solving interactively, you can save your progress.

One cool feature of this software is the ability to send your interactive word search to friends. Using this program, they can solve it, print it, or export it to their favorite publishing program for themselves. Overall, this software is extremely user-friendly and offers a wide range of customization options for creating unique and engaging word-searches.
What's New
Version 1.0.8: Added a minimize button. Strengthened registration security.