This software enables users to learn and speak Armenian quickly, by translating and pronouncing English and Armenian words. Pre-selected categories of illustrated pictures and phrases are provided to aid learning.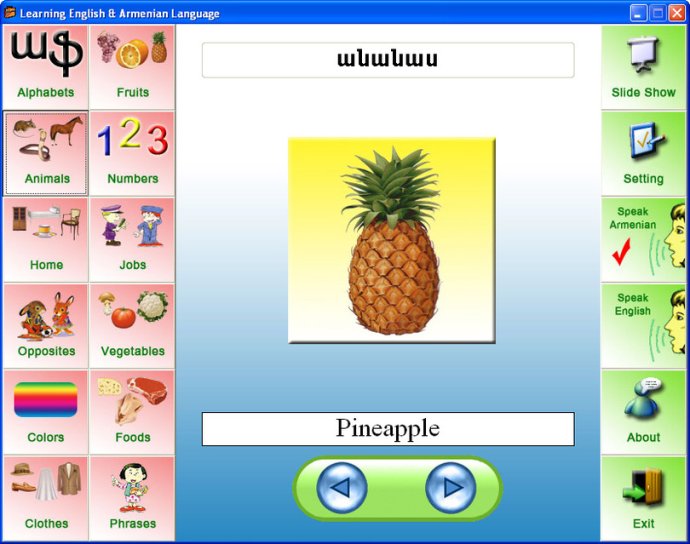 If you're looking to learn Armenian quickly, then Learning English & Armenian Language could be just what you need. This language learning software is perfect for beginners who want an entertaining and self-study course to learn Armenian - without any boring repetition, charts, or meaningless formulas.

One of the standout features of this software is the ability to translate both ways between English and Armenian. Not only that, but it also pronounces the translation aloud with native Armenian. The pronunciation aspect really sets this software apart from other language learning applications and makes it super easy to learn how to say words correctly.

Another great thing about this software is that it's easy to use. You can study both English and Armenian words using the application right on your desktop or laptop PC. There are also 12 pre-selected categories for you to learn with high-quality illustrated pictures. But don't worry about being overwhelmed by the numbers - each vocabulary can be broken up into smaller sets of flexible size.

With Learning English & Armenian Language, you'll be communicating with the locals in no time. The software includes an Armenian Phrases Module with English translations divided into 10 sections, such as Greeting, Shopping and more. These common and daily phrases are perfect for anyone wanting to improve their Armenian language skills.

Overall, Learning English & Armenian Language is a great aid for those looking to learn the language quickly and easily. So why not give it a try and see how much progress you can make in just a few days?
What's New
Version 4.0: N/A
Version 3.8: N/A
Version 3.7: Supporting Windows Vista added;.
Version 3.6: Supporting Windows Vista added;.
Version 3.5: N/A